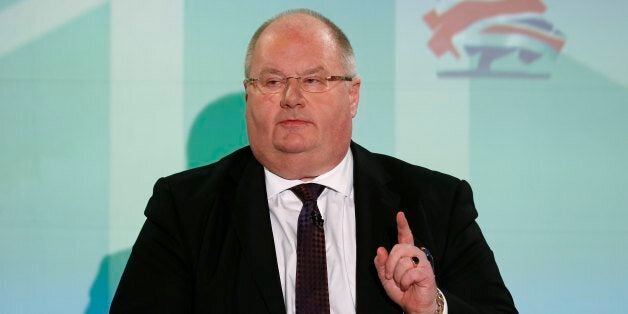 Ukip may über-nationalist and xenophobic but the party is not racist, Eric Pickles has said.
The senior Conservative minister waded into the Ukip debate Friday night arguing Ukip's leader Nigel Farage has preyed on people's fear of immigration in a "shameful" way.
Although the Communities Secretary acknowledged the party contains people who have made "racist calculations", he added he does not believe "in my heart" that the party is racist, he told The Telegraph.
Pickles instead insisted that Ukip was xenophobic, stating: "Xenophobia is the fear of anything that's different, anything that's unusual, that's slightly foreign," he said.
"In a way, they are a sort of über-nationalist party."
The Ukip leader was challenged over the "avalanche" of controversial comments made by his candidates, as the party continues to try and fend off racism allegations following a series of scandals involving party members, and a controversial poster campaign warning about Europeans coming to take UK jobs.
At the climax of the live interview with LBC radio, Farage suggested that people "know" which foreigners make good neighbours as he struggled to justify his opposition to European immigration, despite being married to a German.
Asked what the difference was between Germans and Romanians was, Farage said cryptically: "You know what the difference is."
As pressure grows on Ukip, David Cameron says Farage's comments were "unpleasant" and warned that voting for Ukip would send "a terrible message about Britain".
Ed Miliband entered the debate as he promised that Labour would "never again turn our backs" on people who are concerned about immigration.
However, less than a week before the European elections it seems Ukip is set to beat the Conservatives, with some polls predicting the party could finish first above Labour.