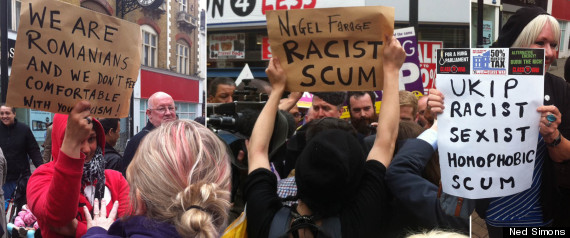 We couldn't put it better than @hoxtonhandmade:
Ah, the perfect hashtag to brighten up your mid-afternoon slump -#ukipcarnival

— hoxton (@hoxtonhandmade) May 20, 2014
Ukip held a 'carnival' in Croydon on Tuesday afternoon. And it was as good an idea as it sounds.
From the steel band who refused to play once they'd realised who they'd been booked for...
Props to #Croydon Steel Band @EnduranceSteel who when realising they were booked by @UKIP refused to play! pic.twitter.com/rklFHniYT4

— South London AF (@SouthLondonAF) May 20, 2014
...to the non-appearance of Nigel Farage himself...
Nigel Farage spotted in Croydon. #UKIPcarnival pic.twitter.com/cNaqm9O2aM

— Европейский комиссар (@MoodySlayerUK) May 20, 2014
...we think it's fair to say that the whole thing was a farce. Here are just some of our favourite funny tweets about it so far - we'll update the slideshow as and when more come in:
Funny #UkipCarnival tweets
SEE ALSO: