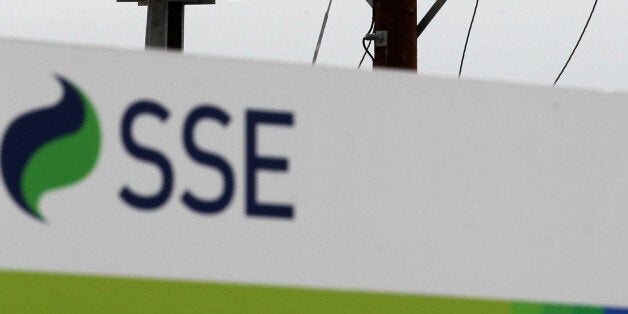 Energy giant SSE enjoyed a 9.6% rise in pre-tax profits to £1.55 billion for the year to 31 March, compared with £1.4 billion a year earlier.
Meanwhile, profits from its energy supply arm fell by nearly a third and are unlikely to recover for two years after it announced a price freeze, seeing operating profits slip by 32.2% to £246 million.
SSE said its energy supply arm was hit by lower use of energy by customers during a mild winter and a higher cost of gas.
The group pledged earlier this year to freeze household gas and electricity tariffs until January 2016, but said this did not impact on the latest annual figures, for the year to the end of March.
SSE made the promise a day before regulator Ofgem announced plans to refer the energy sector for a full-scale competition probe. Chief executive Alistair Phillips-Davies said the pledge had been "hugely popular".
"It remains the only such commitment available to customers and will mean we take a hit on retail profits over the next couple of years," he added.
SSE revealed that its number of customer accounts in Britain and Ireland had fallen by around 370,000 to 9.1 million, but said this decline came before its price freeze came into effect.
It added: "Energy supply profit margins are unlikely to recover to their 2013 level for at least another two years as costs rise but SSE's prices do not."
SSE hiked tariffs by an inflation-busting 8.2% in November, and like other companies blamed the rise on higher costs of buying and distributing wholesale energy as well as Government levies on bills to pay for energy efficiency policies.
After the coalition announced it was rolling back the levies, it said it would cut average dual fuel prices by 3.5% from March 24. The price freeze was announced two days later.
It has said that the pledge will mean profits from its retail arm - which includes boiler and central heating services as well as supply - will be around £100 million lower over the price freeze period than they would have been.
SSE said the freeze was designed to give customers peace of mind but Mr Phillips-Davies said there were still £100 of levies, rising to £200 by 2020, which ought to be scrapped and paid for through general taxation "to keep bills lower for longer".
Though this has not yet had an impact on its financial performance, SSE said its profit margin for supply fell from 4.2p in the pound to 2.9p due to a "competitive market" as well as the mild winter. This has averaged 3.5p over the last three years.
SSE's overall earnings were boosted by its gas and electricity production business, where operating profits rose 24.8% to £634.6 million, and its energy distribution arm, which saw an increase of 9.3% to £955.4 million.
It said that over the year it had invested £1.58 billion as it built power generation assets and electricity networks to ensure affordable supplies for the future, and that it had plans for £5.5 billion of investment over the next four years.
The chairman, Lord Smith of Kelvin, said: "The issues facing the energy sector are very challenging. We believe SSE is not part of the problem but part of the solution to meeting the energy needs of customers in Great Britain and Ireland."
SSE, which also trades as Scottish Hydro, Southern Electric, SWALEC and Atlantic, is one of the so-called Big Six energy companies that dominate UK supply, together with British Gas, E.ON, npower, EDF and Scottish Power.
Shares rose slightly in early trading after the group said it would increase its dividend by 3% and aimed to continue delivering a yearly hike.
Shadow energy minister Jonathan Reynolds said: "However you look at it, there's no hiding the fact that on David Cameron's watch the energy companies have increased their profits on the back of spiralling bills and a cost-of-living crisis for hard-pressed consumers.
"SSE has already said it will freeze prices until 2016. Today's profits show it can afford to freeze them until 2017 - and if SSE can do it, so can the other energy companies.
"Our plans will break up the big energy companies, put an end to their secret deals and make tariffs simpler and fairer. And until these reforms kick in, we will put a stop to unfair price rises by freezing energy bills until 2017, saving the average household £120."
Deputy Prime Minister Nick Clegg insisted Government measures - such as making it easier to switch supplier and encouraging new firms to enter the market - were starting to help reduce bills. He said it was not right for him to criticise the scale of a privatised utility's profits.
"I am not going to make the mistake Ed Miliband does, which is charging around making lots of incredibly attractive-sounding commitments: 'I am going to freeze this, I am going to freeze that, I am going to abolish that, I am going to ban that'," he told BBC Breakfast.
"People actually know that is not the way the world works, that's not how you keep prices down. Actually a price freeze would almost certainly see prices shoot up before the freeze is imposed. It would deprive us of the ability to invest in the infrastructure needed to keep our lights on."
SSE, which is Britain's second largest energy supplier, said it "would like to extend its price freeze beyond 2016, or even cut prices if further costs can be taken out of energy".
"It believes further savings for consumers worth around £100 - forecast to rise to around £200 by 2020 - could be made with political action to end the practice of levying policy costs on energy bills," it said.
"Recouping the cost through energy bills takes no account of an individual's ability to pay and is therefore socially regressive."
The group said it had delivered 15 successive increases in adjusted pre-tax profits since it was formed in the 1998/99 financial year, and aimed to do so again next year.
But its profit margin of 2.9p in the pound on energy supply for the year was well below the level of 5p it says is a "fair amount to earn from supplying efficiently energy to customers".
It said its operating profit from domestic electricity and gas supply in Britain was an average of around £48, before tax and interest charges.
Richard Lloyd, executive director of consumer group Which?, called on SSE to do more on customer bills. He said: "With healthy group profits and wholesale gas prices falling, we expect SSE to promise not just to shield people from price increases but to fairly pass on lower costs to their customers."