Security footage apparently showing two unarmed Palestinian teenagers being shot dead by Israeli soldiers has emerged.
The film, shot from nearby office buildings, was taken during a lull in a stone-throwing clash on 15 May in the West Bank city of Beitunia.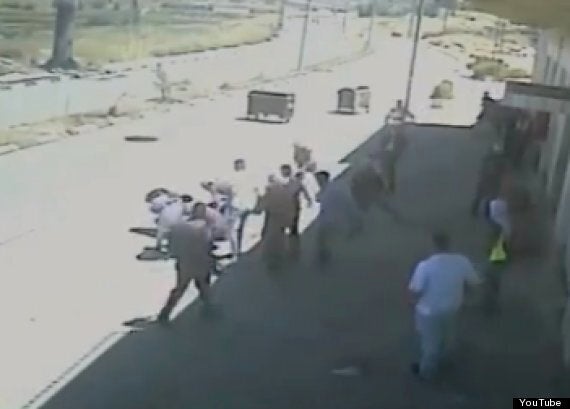 The footage shows a crowd rushing to one of the boys as he drops to the ground
"These acts by Israeli soldiers may amount to war crimes, and the Israeli authorities must conduct serious, impartial, and thorough investigations to hold the perpetrators accountable for their crimes."
The boys were participating in a demonstration near Ofer military prison to mark Nabka Day and express solidarity with hunger striking prisoners. The protest reportedly began peacefully but turned violent when Israeli forces clashed with the Palestinian youths.
A further two youths – Muhammad 'Azzah, 15 and a 23-year-old who wished to remain anonymous were also shot and are now recovering from their wounds.
On Tuesday, an Israel Defence Force (IDF) spokesman denied troops had used live rounds, telling Arutz Sheva: "On Thursday, a violent and illegal disturbance took place at Bitunia.
"An initial conversation with the forces that operated on the scene of the disturbance indicates no firing of live bullets. However, the Military Prosecution has given instructions for launching an investigation by Investigative Military Police."
It adds he claims not to have seen the footage, but alleges it has been manipulated through editing.
Israeli rights group B'Tselem disputes this account, and has acquired further footage from opposing cameras (visible below).
Footage of the killing of Nadim Nawarah (cameras 1+2) as supplied by B'Tselem:
Footage of the killing of Muhammad Salameh (cameras 1+2) as supplied by B'Tselem:
"The investigation, compounded by security camera footage of the incident, indicate that the circumstances of the incident in no way justified use of live gunfire, which sounds different from rubber-coated bullet fire.
"The army's open-fire regulations clearly stipulate that live ammunition should not be used against stone-throwers, except in cases of immediate mortal danger.
"Security camera footage of the incident proves that at no stage were security forces endangered by any of the four victims, or by anyone close to them at the time of the shooting. The footage shows Nadim Nawarah being shot while walking along a street towards the area where Palestinian youngsters were clashing with army forces, and Muhammad Salameh [Odeh] with his back turned in the direction of the security forces that shot him."
The UN and the US State Department has called for an independent investigation into the shootings.
Related