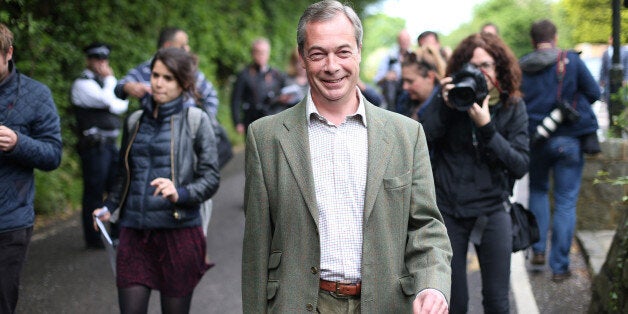 The Tories and Labour suffered today as voters turned to Ukip in the local elections, with the two largest parties in Westminster losing control of councils as a result of gains for Nigel Farage's "people's army".
Ukip's press officer sent a victorious message to the "spiteful left wing" Friday morning, declaring "it didn't work."
Stunning results in southern councils appeared to indicate that Essex Man was increasingly voting Ukip and, in a worrying sign for Ed Miliband, the party also made inroads in Labour's northern heartlands.
Farage has insisted Ukip will be "serious players" at the general election after the party scored significant wins against the Tories and Labour in local polls overnight.
Mr Farage predicted his party could hoover up 200 extra council seats by the end of the day - and said European election results due Monday could be even better.
Pointing to significant wins in Essex and areas such as Rotherham, he suggested the "Ukip fox is in the Westminster hen house".
"There are areas of the country where now we have got an imprint in local government," he said. "Under the first-past-the-post system we are serious players."
Turnout looks set to be about 36% with most results in 161 English councils still to come. The Euro election results are due on Sunday.
With 82 councils declared, Labour has gained 149 seats, Ukip has gained 92 seats, the Lib Dems have lost 127 and the Conservatives have lost 126.
David Cameron has admitted the Tories need to show they have "answers" on issues such as immigration and welfare reform after Ukip smashed its way into the picture for the general election.
As recriminations began in the main parties following a stunning set of local election results for Nigel Farage, the Prime Minister said he still believed he could win another term in Downing Street next year.
But he conceded that the public were "frustrated" with the political establishment's failure to address their concerns.
"People want us to deliver," he said. "The economy is growing, we are creating jobs, but we have got to work harder and we have got to really deliver on issues that are frustrating people and frustrating me, like welfare reform and immigration and making sure people really benefit from this recovery.
"We will be working flat out to demonstrate that we do have the answers to help hard working people."
Ukip chairman Steve Crowther said Friday morning the results were "so far, so good" for the party and insisted the successes were "not a flash in the pan".
He dismissed suggestions voters were turning the party simply as a protest, telling BBC Breakfast: "They are saying that but there is an air of desperation about it to be perfectly honest because this has now been going on for sometime and it's a consistent thing.
"Ukip have been building for 20 years consistently and we have now reached a point where we have broken into the old party system. It is now four party politics and this is not a flash in the pan.
"The other parties are looking a little bit panic stricken."
He added: "We are absolutely delighted with the 10 seats we have taken in Rotherham. That was just a tremendous result."
Mr Crowther said the results in Essex had been "remarkable". "It really has turned purple," he added.
The Essex surge by Ukip also hit Labour, which lost control of Thurrock - a key Westminster target for Mr Miliband's party - as Mr Farage's party picked up five gains.
Ukip denied it had a particular strategy to target Essex voters, insisting the success was "a reflection of how organised we are becoming" in different areas of the country.
In the north, Ukip showed it could pose a threat to Labour in its strongholds, taking 10 of the 21 council seats up for election in Rotherham, including nine gains, and polling an average of 47% where its candidates stood.
Senior Labour figures acknowledged the impact that the rise of Ukip had on their vote, while a group of Tory backbenchers called for a pact with the party to avoid splitting the Eurosceptic vote in next year's general election.
The Liberal Democrats were also expecting to "take a kicking" from voters as a result of the policies implemented by the coalition Government.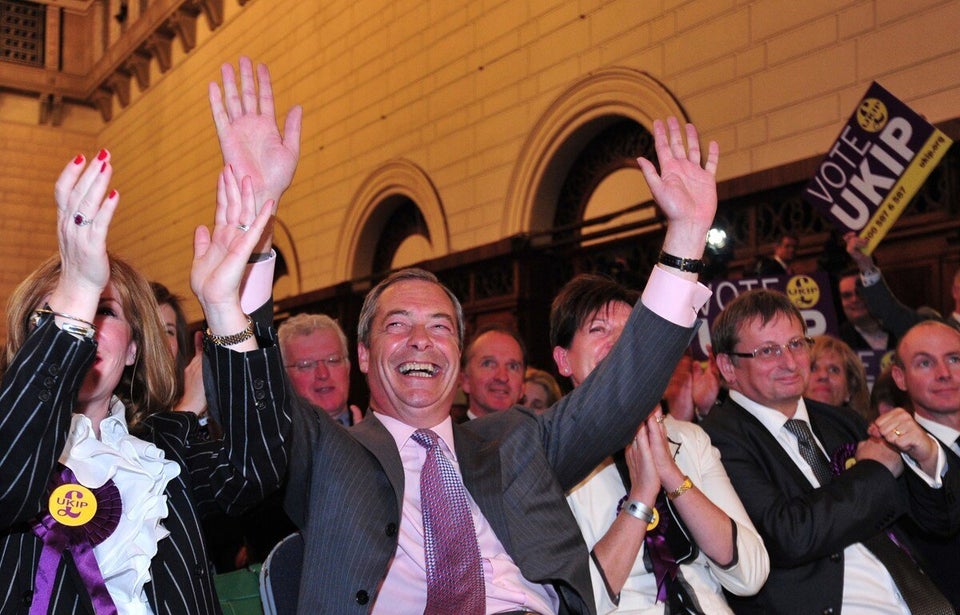 European and local council elections
Ukip director of communications Patrick O'Flynn said he wanted the party to secure more than 100 council seats, telling Sky News: "That would be terrific for us. I think we can do it."
A further indication of whether the party can achieve its hoped-for political "earthquake" will come when votes in the European elections are counted on Sunday, with opinion polls suggesting they could finish first.
Votes were cast throughout the UK for the European Parliament contest to return 73 MEPs, while more than 4,000 council seats at 161 English local authorities, including the London boroughs and those in Northern Ireland, are also up for election.
Labour sources had indicated that the party might win 200 seats on a good night, but senior MP Emily Thornberry said she expected the figure to be "around 150".
The party failed to break through in southern battlegrounds such as Swindon, although it claimed to have won the popular vote in the Wiltshire town's two parliamentary constituencies.
Labour also expected success in London, where the impact of Ukip appeared to be more limited.
A senior Labour source acknowledged that Ukip's rise had "some impact" on Ed Miliband's party but claimed it was "looking as though there has been a big Tory/Lib Dem collapse".
Labour former minister David Lammy said he would have liked to see the party make gains in places such as Swindon.
He claimed voters had been "swallowing" Ukip's message on immigration and Europe.
Mr Lammy told Sky News: "There's no doubt about it, Ukip are biting into parts of Labour's working-class vote.
"Ukip have a very simple message, which is if you're worried about your son's unemployment, if you're renting, if you can't get a council house, if your wages are stagnating, that the problem is immigration and the solution is we're going to pull out of Europe.
"The truth of that is something quite different but people are believing that message, they are swallowing that message, and I think that mainstream parties have to look very clearly now over the next short while at how they penetrate the protest that's been demonstrated tonight."
Justice Secretary Chris Grayling told Sky News the Tories were continuing to gain seats from Labour, adding: "If I was sitting in Labour headquarters tonight, I would be worried.
"This does not feel to me like the start of an evening that is the path to Downing Street in nine or 10 months' time."
But Tory MPs Douglas Carswell, Jacob Rees-Mogg and Peter Bone called for the Conservatives and Ukip to work together in 2015 to ensure a referendum on Europe.
Mr Rees-Mogg told the BBC: "In a first-past-the-post system, if they don't get those votes into one pot, then both those sides end up losing."
With the Liberal Democrats expecting a further erosion in their local government powerbase and a potential wipeout of their MEP, Business Secretary Vince Cable said: "It is going to be a difficult night - I think we've never concealed that - but not just for us. I think both Labour and the Conservatives will find it difficult tonight.
"But we're in Government, we take a kicking for the things the Government does that are unpopular and it does reflect on us."
Mr Cable dismissed talk that Nick Clegg's future as Lib Dem leader could be called into question if the party endured a poor night, saying: "There isn't a leadership issue and I think he has enhanced respect as a result of being willing to engage with these very difficult issues."
Four Ukip gains also led to the Tories losing control of Maidstone, Kent, with Labour also picking up a seat to double its representation on the council.
The Liberal Democrats were also hit by Ukip, losing control of Portsmouth as Mr Farage's party picked up six seats on the city's council.
Under-fire MP Mike Hancock lost his council seat in Portsmouth after attempting to be re-elected as an independent.
Mr Hancock, who was suspended from the Liberal Democrat party in January, lost his Fratton seat on the city council to Ukip's Julie Swan.
Labour seized control in Hammersmith and Fulham, previously a flagship Tory authority.