A deadly shooting at Brussels' Jewish Museum has left three people dead and another seriously wounded, the fire department said.
The popular Belgian daily Het Laatste Nieuws said the gunmen was alive, had been carrying a backpack, and had fled in a car after the attack at around 3.50 local time. It is understood that a witness recorded the registration number of the car.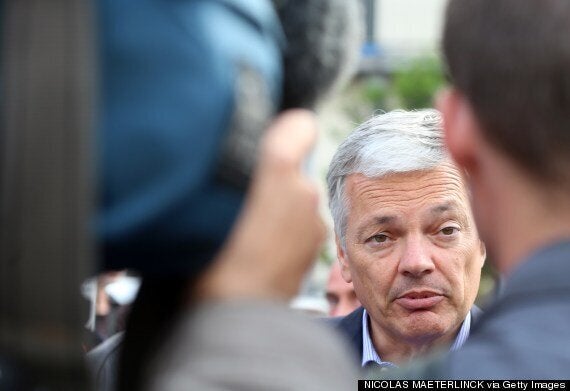 Belgian Foreign Minister Didier Reynders speaks to journalists at the scene of a shooting near the Jewish Museum in Brussels
The broadcaster said that three men and a woman had been shot. Images of emergency service staff attempting to revive a woman lying in a pool of blood on the ground at the museum's entrance have been circulated by picture agencies
Ambulances are at the scene treating several people for shock and police have cordoned off areas around the museum.
"Bodies were left lying on the ground inside and outside the building. There was blood everywhere and people were screaming," a police spokesman said.
By chance, the country's Deputy Prime Minister Didier Reynders was one of the first to arrive at the scene of the attack. "Minister Reynders was on the Sablon [a neighbourhood in the city's historic centre], when a woman with a child came running up to him," spokesman John Hendrickx said. "She said there were shot on the rue des Minimes, a few meters away. So the Minister and some colleagues went looking."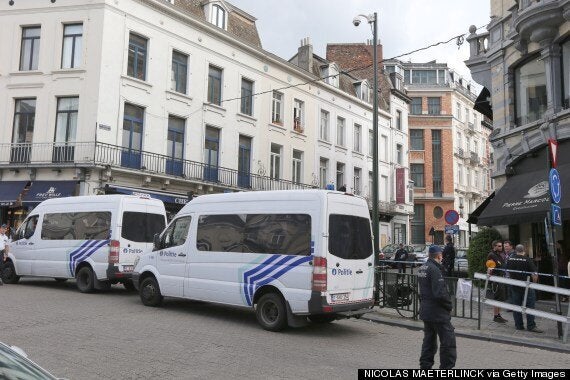 Police vans are parked around the scene of a shooting near the Jewish Museum in Brussels
The minister tweeted later that he was "shocked by the murders committed at the Jewish Museum," and sending condolences to families and those who witnessed the attacks.
"It did not look good for the victims," Hendrickx told HLN. "A woman was being resuscitated. And there was a man already deceased. We do not know what happened inside. "
He said the museum had received no recent threats and that its staff "are in shock".
Belgian Interior Minister Joelle Milquet told RTBF that the nature of the shooting "could give rise to presumptions of an anti-Semitic act."
"This is a terrorist act, where the murderer deliberately targeted a Jewish museum," Joel Rubinfeld, president of the Belgian League against Antisemitism, told AFP. "He killed three people, wounded one, and there was a car waiting for him nearby." He blamed a rise in anti-Semitic speech and a "climate of hatred" for the attack.
The museum is located in the heart of the city, a few blocks from the Great Synagogue and Brussells Chappelle station.
Around 20,000 Jews live in Brussels, with another 22,000 living elsewhere in Belgium, the fourth largest community in Europe