Nigel Farage will find out whether he has delivered the political "earthquake" he predicted when the much-anticipated results of elections to the European Parliament are revealed.
Anti-EU parties from the left and right are expected to gain significant numbers of MEPs across all 28 member states in the wake of the eurozone crisis and severe financial squeeze.
And the Ukip leader is confident his party will top the poll in the UK, piling further pressure on the established Westminster parties to find ways to win back supporters.
Story continues after slideshow...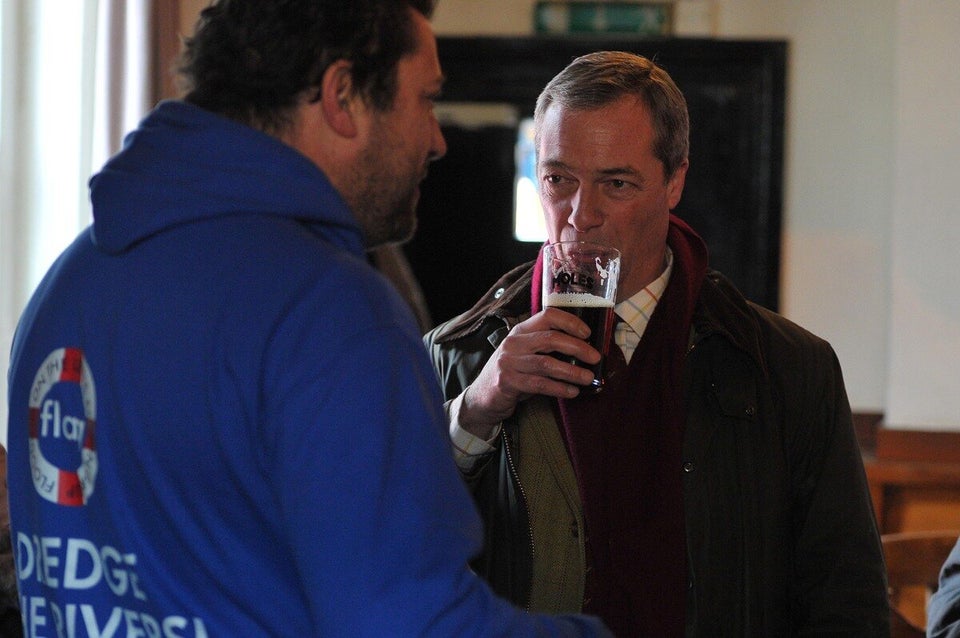 Nigel Farage In The Pub
And David Cameron has been urged by influential Tory MP David Davis to bring forward his promised EU referendum by a year to 2016 in a bid to persuade defectors to Ukip he is serious.
Votes were cast on Thursday at the same time as local elections in which Ukip gained 128 seats and made serious inroads into Conservative, Labour and Liberal Democrat support.
Opinion polls suggest the Ukip vote will be stronger still in the European election after a bitterly-fought campaign dominated by immigration and contested allegations of racism against Farage.
A victory will intensify questions facing other party leaders as they battle to reassure MPs and activists that the Ukip surge will not derail their campaigns for the 2015 general election.
Chancellor George Osborne said he and David Cameron were ready to "respond to the anger justifiably felt with answers" to concerns about issues such as immigration and welfare.
Accepting that the latest results were likely to make more uncomfortable reading he conceded that "too many people who share our values did not feel able to vote for us".
He dismissed calls from some eurosceptic backbenchers for an electoral pact with Ukip.
But the message had to go out to voters defecting to Nigel Farage's party that they would "live with the consequences for years" if they allowed Labour to take power by abandoning the Tories.
The scale of the task the Tories face to win outright next May was underlined by a new poll of 26 marginal constituencies giving Labour a 12-point lead by 41% to 29%.
Carried out by Tory peer Lord Ashcroft, it suggested Ed Miliband was on course to oust 83 Conservative MP and secure a healthy Commons majority.
Despite also showing that voters would greatly prefer to see Cameron in Number 10 than his rival, the survey provided a timely boost to the under-fire Labour leader.
A projection of what Thursday's local votes would mean at a national level had put the party just two points ahead by 31% to 29%, sparking internal criticism of the campaign.
Labour won more than 300 extra seats but failed to secure progress in some target areas because of a surge by Ukip with some MPs complaining Miliband had failed to take the fight to Farage.
Miliband will next week visit the scene of one of the party's biggest disappointments, Thurrock, in Essex, number two on its Westminster target list, where it actually lost control of the council.
"UKIP won over some voters who feel ignored by politicians and let down by the way the country is run," he wrote in the Sunday Mirror.
"Our job now is to show all of those people that we can change our country so they can build a better life for themselves and their family.
"Heartened but not complacent, I will be back on the campaign trail this week showing that Labour can change our country."
Ukip - which hopes to translate its recent popularity into Westminster seats next May - polled 18% in the poll of marginals and was in second place in four of the battleground seats including Thurrock.
Nick Clegg - whose party trailed on just 8% - finds his leadership under renewed pressure as he waits to find out the extent of MEP losses.
Snap opinion polls suggested Clegg lost to Farage in two televised debates where he pitted an unashamedly pro-EU message against Ukip's demands the UK leave the Union.
Ex-MP Sandra Gidley and at least two general election candidates are among more than 500 who have signed an online petition calling on him to step aside.
MP John Pugh said he had canvassed the opinion of colleagues and that a "root-and-branch" review was being held into "our current strategy, including how and by whom it is presented".
With two results still to be finally declared, the Lib Dems suffered the heaviest casualties in the local elections, shedding 254 seats and losing control of two authorities.
The Tories have 174 fewer councillors and control 11 fewer councils while Labour enjoy 341 more seats and run another six councils.
Ukip, despite a poor showing in London, added 128 seats but did not end up in control of any of the councils holding elections.
Although voting for the UK's 73 MEPs took place on Thursday, the announcement of the results cannot be made until polling has closed in all member states - at 10pm UK time.
Tory MP Mark Reckless urged David Cameron to rule the Government will not take a side in the EU referendum debate - and give ministers the freedom to choose whether to campaign for yes or no - to demonstrate to Ukip voters that he is serious about giving the public a say.
"A straight choice, an honest vote, that would amount to a fair deal for Ukip in return for their support when at the General Election," he wrote in the Mail on Sunday.
In an article for the Sunday Times Davis urged Cameron to bring forward the promised European referendum by a year to 2016 to allay the fears of of voters who have defected to Ukip.
Warning that the Prime Minister's policy position on the EU lacked "both clarity and credibility", he said the Tories needed to show they were serious about renegotiating a new deal with Brussels.
He said party leaders had made "minimalist promises ... under pressure" about a new deal, and warned voters do not feel the party is facing up to Europe "with sufficient rigour, clarity or courage".
Unless there is a "clearly articulated set of strategic negotiating aims", renegotiation will "achieve little", he said.
Calling for a "reset" of Europe policy, he wrote: "We should start by bringing the referendum forward to 2016."
He added: "The Conservative Party has to decide pretty soon where its blue lines are and make them very clear. If we do not grasp this nettle, I can see the Ukip resurgence carrying all the way through to the general election."