WARNING: EXTREMELY GRAPHIC IMAGES, DO NOT SCROLL DOWN IF THE IMAGES MAY CAUSE DISTRESS
Disturbing pictures of the two teenage girls found hanged from a mango tree after being gang-raped have been broadcast on Indian TV, as furious locals prevented the police from reaching their bodies. Women have also been demonstrating in the regional capital of Lucknow, 160km from the village.
The girls, who were aged 14 and 15 and are believed to be related, disappeared from fields near the village of Katra, in Uttar Pradesh state in the north of the country. Investigators have made three arrests - including two police officers - since the gruesome crime.
The pair are believed to have gone into the fields to relieve themselves. "There are no toilets in most homes here, so the girls had gone to the nearby fields," a villager told a Hindi news website.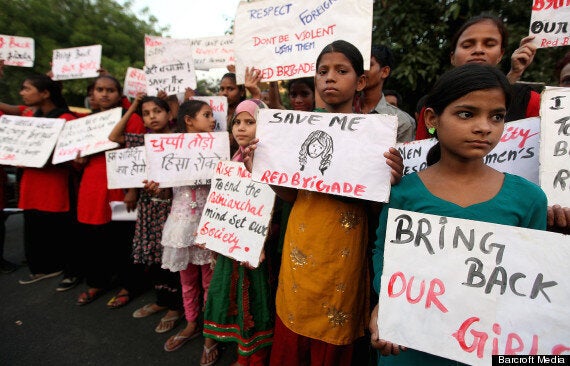 Women demonstrate in the regional capital of Lucknow, Uttar Pradesh, after two girls were found gang-raped and murdered
Hundreds of locals who are furious at the perceived inaction by police held a silent protest on Wednesday demanding retribution, preventing the police from taking down the bodies. Pictures broadcast on Indian TV show the bodies of the girls still hanging from the tree.
Anger is spreading across India, with women and schoolgirls protesting in Lucknow, using the now familiar slogan 'Bring back our girls', first linked to the kidnapping of the 300 schoolgirls in Nigeria.
WARNING: THE IMAGES BELOW ARE OF AN EXTREMELY GRAPHIC NATURE. CLICK HERE ONLY IF YOU WISH TO VIEW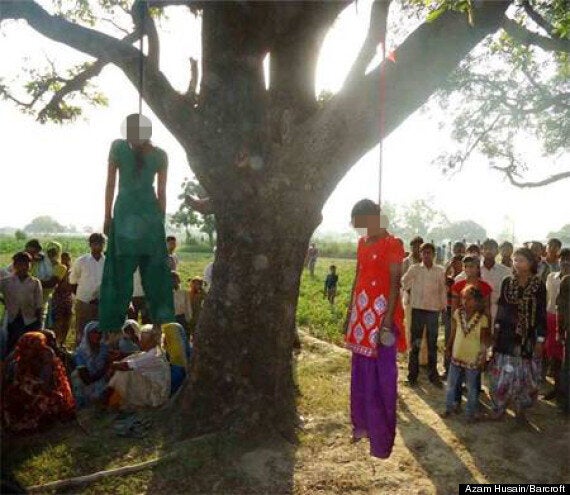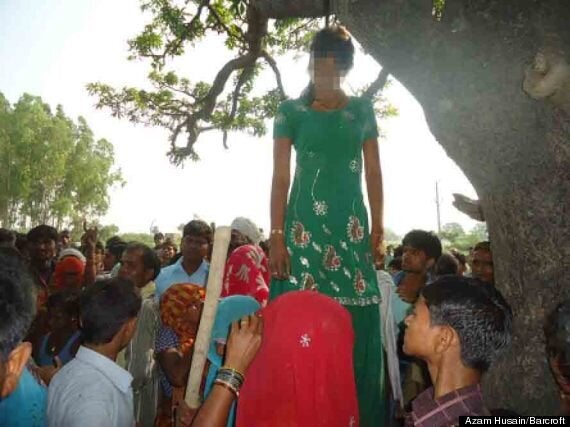 An autopsy showed the hanged girls had been raped and then strangled.
"We are still investigating how the girls went missing and were allegedly raped and hung from a tree," a senior police officer told the BBC.
"The Government has promised that they will provide women safety. But it has not fulfilled yet."
It is the latest case of sexual violence against females to send shockwaves through India. In 2012, a gang of men raped a 23-year-old Delhi student who subsequently died of her injuries, a case that "shocked the collective consciousness of India", according to the judge who sentenced the perpetrators to death.
Dalit women, traditionally regarded as "untouchables" in India, have this month staged a protest at the rise of rape cases of Dalit women in Haryana, in front of residence of its chief minister.
Last month, the head of Uttar Pradesh's governing party told an election rally he opposed the death penalty for gang rapist because "boys will be boys, and they make mistakes."
That same month, a court in India had sentenced three men to hang after they were convicted of raping a photojournalist and a telephone operator in Mumbai. The 22-year-old photo intern had gone an abandoned textile mill with a male colleague on an assignment when she was attacked, with her companion badly beaten.
Related