The Duke and Duchess of Cambridge have enjoyed a dram at a whisky distillery - and picked up a kilt for baby George - on a trip to Scotland. William and Kate sipped a cask-strength single malt at Glenturret distillery near Crieff as they carried out a series of engagements in Perthshire.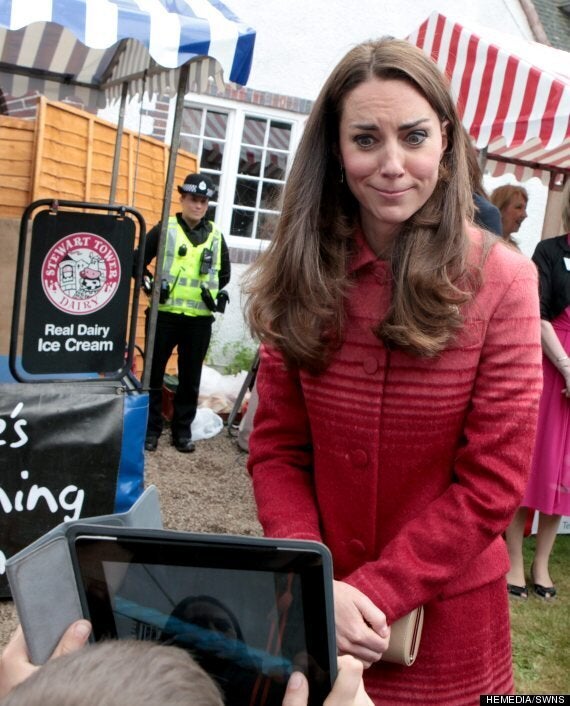 They were given a tour of the country's oldest working distillery before bottling their own Glenturret whisky. They tried the cask strength (57% abv) malt, with William admitting it had "a bit of a kick to it" and Kate declaring it "delicious". It was the couple's first joint engagement since their tour of Australia and New Zealand last month and their first official visit to Scotland, where they met as students, this year.
They were greeted by crowds of hundreds of excited locals, including many schoolchildren waving Saltires and Union flags. William and Kate - known as the Earl and Countess of Strathearn in Scotland - opened the new-look Famous Grouse Experience visitor attraction which draws more than 100,000 people to the distillery each year.
Established as a single malt distillery in 1775, Glenturret is also blended with other grains and malt whiskies to create The Famous Grouse, one of the world's top five whiskies. General manager Stuart Cassells said: "It has been a real privilege to have them here. They said they liked whisky, both Prince William and Kate. Kate said William drinks more than her and does seem to prefer more peaty whisky.
"We were quite surprised at how many different whiskies they tried. Everybody in the team has been incredibly excited to have them here."
The royal visitors later exchanged whisky for locally-produced gin as they sampled some of Perthshire's finest produce at the Forteviot village fete. Kate, who wore a coral and red striped coat by Scottish designer Jonathan Saunders and a celtic brooch, was also tempted by hand-made oatcakes and tablet - a sugary confection similar to fudge.
David Lang, from Strathearn Distillery, met the Duchess at the fete. He said: "She came over and said 'Oh, I see you have some gins here. I shouldn't really try it because I had some whisky at lunchtime, but I'm going to try it'. We gave her some heather rose gin, which is our most popular, and she said it was absolutely delicious. I think she's a fan. What better testament to our gin than her saying that?"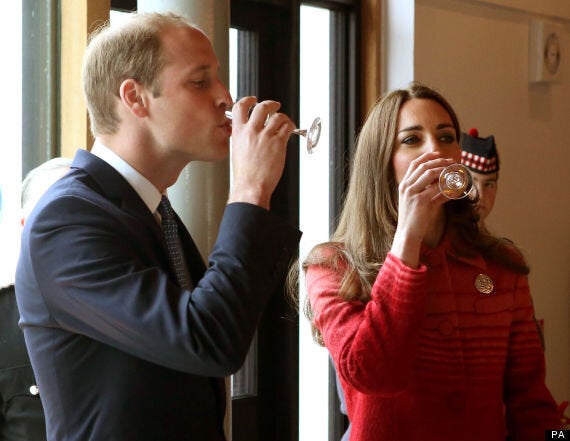 Graham Donaldson had created a picture of the royal couple with their son George made entirely of sweets, which was on display at his confectionery stand. He said: "It took about 100 hours to make - much longer than we anticipated - but it's a bit of fun. She noticed it straight away when she came to the stall and she liked it and she got some local tablet to try as well. I hope she has a sweet tooth."
The couple also watched a display of Scottish dancing by local children and William toured the local chapel. Before departing, they were presented with a traditional handcrafted kilt for Prince George in the ancient Strathearn tartan, by kiltmaker Marion Foster.
William and Kate had earlier attended a civic reception hosted by Perth and Kinross provost Liz Grant, where they were gifted an ancient map of Strathearn. William was also presented with the Royal Chieftain's blue bonnet, and with it the title of Royal Chieftain of the Crieff Highland Games.
The couple's last official visit to Scotland was in April last year, when they accompanied the Prince of Wales to Dumfries House in East Ayrshire for the opening of an outdoor centre. They also visited Glasgow's Emirates Arena, a key venue in this summer's Commonwealth Games.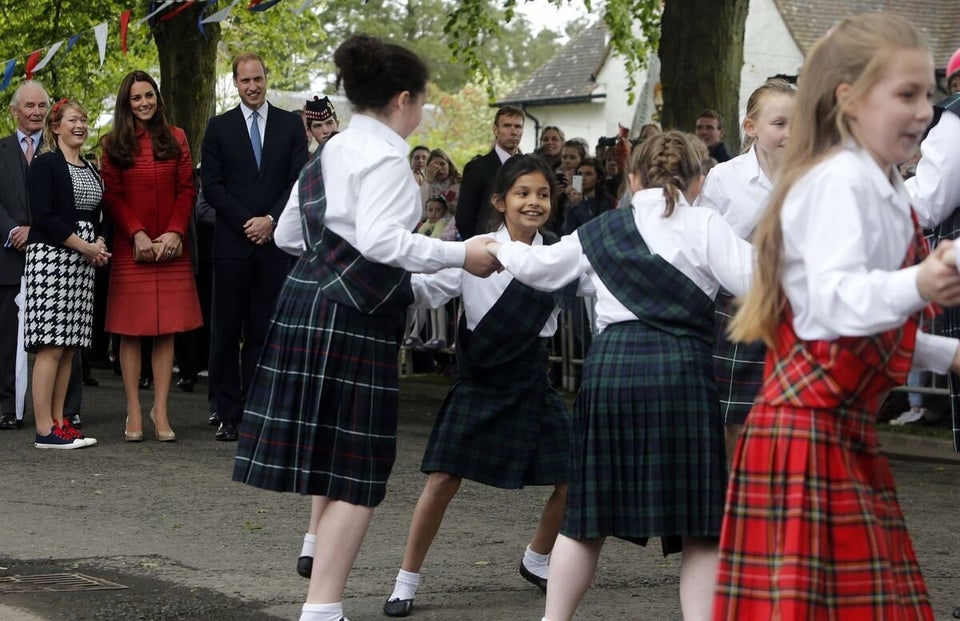 Duchess In Scotland
Popular in the Community