Nick Clegg and Vince Cable staged a photo opportunity in a London pub on Tuesday. The early morning boozing was sold as a way to announce new measures to help the pub industry. But it was also no doubt designed to show the deputy prime minister and business secretary are best of friends following last week's failed coup attempt by Cable ally Lord Oakeshott.
In an unusual approach to wooing the press the Lib Dems locked quite a lot of journalists out of the pub, leaving them standing in the rain and peering in through the window.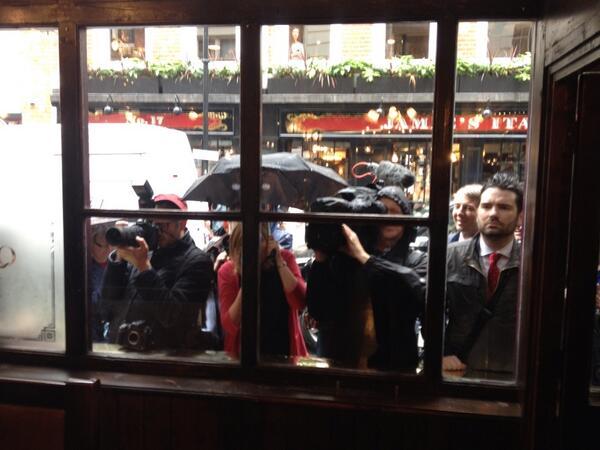 The story continues below
According to Norman Smith from the BBC, Cable had a pint of London Pride and Clegg had Sambrooks Archers Mild. Soggy journalists got their revenge on the Lib Dem leadership by pushing the #LibDemPubs hashtag on Twitter.
#LibDemPubs The Huhne Under Water

— Stuart Crow (@stucrow) June 3, 2014
The Lost Deposit. #LibDemPubs

— Jim (@Jim_Watford) June 3, 2014
The Blue Huhne #libdempubs

— Chris Deerin (@chrisdeerin) June 3, 2014
The Party Of Inn #LibDemPubs

— Peter Mannion 'MP' (@PeterMannionMP) June 3, 2014
The Plot thickens #LibDemPubs

— Ian Baxter (@IanBaxter66) June 3, 2014
The Not Voted Inn #LibDemPubs

— Samuel (@samuelLBS) June 3, 2014
The given reason for the visit was to announce long-awaited plans to tackle complaints about landlords "tied" to large pub companies, saying they will now be protected from unfair treatment. Unfortunately it turned out the Queen's Head, which Cable and Clegg downed a pint in, was an independent pub that is completely unaffected by the reforms.
SEE ALSO:Lord Oakeshott Drowns His Sorrows