Politics is broken - that's the opinion of Arianna Huffington, The Huffington Post's editor-in-chief.
We are facing a crisis where world leaders are "disconnected from their own wisdom," she said, speaking at a packed-out event at The School Of Life on Wednesday night.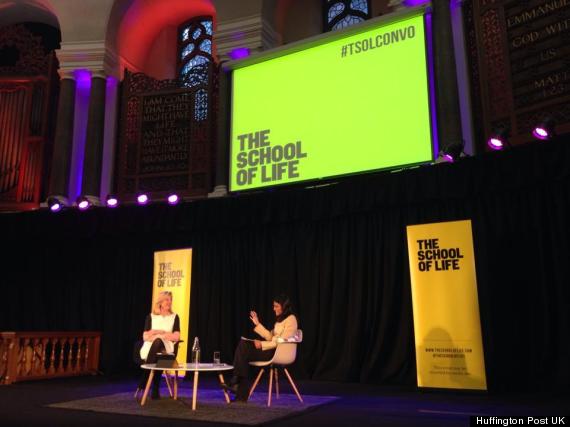 The time has come for politicians to question where they find the meaning in their life, she argued, suggesting that, in a power-crazed and money-hungry world, a basic "survival mode" has left those at the very top with a twisted work ethic – namely that the more power you have, the less empathy you are left with.
"It doesn't have to be that way," she said. "We need to bring back time for reflection.. we need more introverts running for office."
The crux of the problem, she said, is that in the UK we wear exhaustion as a badge of honour – that our notions of success are based on the two traditions of power and money.
"Burnt out people will continue to burn out the planet because they know no better," she said.
Huffington wants to change this attitude to achievement and accelerate a global shift that is already happening in the work place.
Burn out at work, she said, is not just an issue stalking the corridors of Westminster – stress at work devastates lives and wipes billions from the economy across the UK.
So, how do you tackle the problem of work-frazzled adults and redefine ideas of success?
Huffington is currently in the UK giving insights and tips for living a life of well-being at work and outside.
But is such a thing realistic in today's highly-pressurised and ruthless world of employment, where statistics, deadlines and an addiction to technology are prioritised above health and emotional well-being?
Huffington argues, yes.
The UK is arguably facing an epidemic of stress as a result of a hard work ethic. The Health and Safety Executive has said that 105,000,000 work days are lost to stress each year, costing UK employers £1.24bn. And 75% of all psychological and physical illnesses in the UK can be attributed to stress.
Interviewing Huffington at Wednesday night's event was Tazeen Ahmad, a foreign correspondent for NBC News and an investigative reporter for Channel 4's award-winning current affairs show 'Dispatches'.
As a reporter, Ahmad has worked in war zones, been inside prisons and interviewed people in extreme circumstances. She's worked undercover, had death threats and – as is standard in journalism – operated around the clock with very little sleep.
This is someone perfectly used to keeping calm when things go awry. Yet, when did this seasoned journalist finally loose her cool? When she thought her handbag had been stolen.
"I lost all sense of the sane," she describes, blogging for Huffington Post UK.
And after what can only be described as a mini-breakdown in a shopping mall, where was said handbag? Safely in her car.
Huffington would term this type of episode a "rude-awakening", and she is speaking from experience. She did, after all, have her own wake-up call, when she cracked a cheekbone after passing out from extreme exhaustion.
"What is a good life? What is success?" she asked. "If you come to in a pool of your own blood, you are not successful."
The incident launched Huffington's Third Metric revolution – a third way of defining success, beyond the old metrics of money and power – and now she has declared that the time has come for a lack of sleep and a fixation on emails to finally be seen as negative, rather than a necessity in the workplace.
Cynics may dismiss Huffington's battle against worker fatigue as a "first world problem".
But earlier this year businesses launched an initiative to tackle the problem, setting out guidelines for spotting and helping employees with mental health issues, largely brought on by stress. Behind the report are executives from organisations including Barclays, BT and Royal Mail.
And on Wednesday Huffington stood and spoke to lobbyists and MPs about how they can revolutionise their well-being.
Such moves are necessary, Huffington argues. Mental wellbeing must, and is, becoming a mainstream issue because "the alternative doesn't look very pretty".
"We need to learn you can't make everything happen," Huffington said. "We need to learn that no is a full sentence."