If you wanted to mark the 25th anniversary of the Tiananmen Square massacre in mainland China today, you had to be pretty clever about it.
Certain emoticons, like a crying face and a lit candle, are also apparently unavailable. But pictures were getting through the censors, including this image from a Weibo user, with the date of the student killings and 'AK47' written using playing cards, and displayed behind a policeman at the flag-raising ceremony in the capital's central square. It has now been deleted.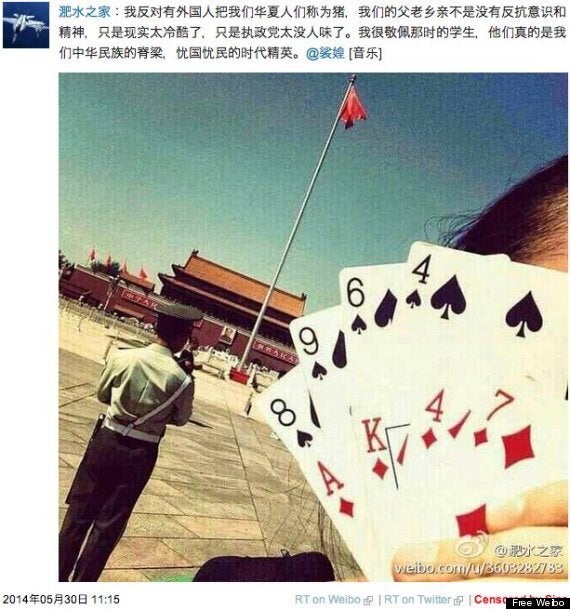 The picture was taken by a very daring Weibo user
Charlie Smith, co-founder of Free Weibo, an uncensored version of Sina Weibo, told the BBC: "Some photos are making it through but not many. It saddens me to say that the censors can likely claim victory today, at least around this event."
The censors have also apparently reached the British Foreign Office. The White House press secretary Jay Carney said the US "deplored the use of violence to silence the voices of the peaceful demonstrators in and around Tiananmen Square" and promised to honour the memory of the fallen. United Nations human rights chief Navi Pillay on Tuesday called on China to reveal the truth about the army's violent suppression of mass pro-democracy protests.
But no similar statement had been forthcoming from Number 10 or the Foreign Office until approximately five o'clock in the evening. A spokesman said they "remember the tragic events that took place in and around Tiananmen Square" and that "more progress on civil and political rights is needed." The FCO told HuffPost UK no politician would make an official statement.

The Canadian Embassy message that made it through the Weibo censors
"The memory of this visit lets us remember various past events in the square, including those years when the square had a more relaxed, amicable atmosphere," the post reads.
Even LinkedIn appears to have agreed to censor Tiananmen-linked sensitive articles to stop users based in the Chinese mainland from seeing them.
Another user, Amnesty campaigner and PhD student Patrick Poon, also reported seeing the message.
With the censors' eyes glued to China's microblog and sites like Facebook and Twitter banned from the mainland, activists do still have one digital space to mark the 25th anniversary of the Tiananmen Square crackdown - instant messaging.
China's popular message app Weixin (WeChat), akin to Whatsapp appears to have escaped censorship, with users able to post photos and messages marking the anniversary.
In the UK, as campaigners went to lay flowers at the Chinese embassy, Amnesty reported a scuffle with officials.
According to the charity, officers pushed Amnesty UK's Director Kate Allen and Wang Ti-Anna, the daughter of an imprisoned Chinese dissident named for the 1989 Tiananmen protest movement, off the steps of the Chinese embassy as they attempted to lay a bouquet of red roses on what is officially Chinese territory.
The charity has said it will file an allegation of common assault.
"If this is the sort of brazen aggression that Chinese officials feel confident they can get away with in London, it is frightening to think what is happening in China," Allen said: "This was a peaceful attempt to commemorate the Tiananmen protests and remember all those who lost their lives in the bloody crackdown. The violence it was met with shows the true colours of the Chinese authorities."
"It is deeply disappointing that the UK government has apparently decided not to make a public statement on the 25th anniversary of Tiananmen. The silence is deafening, it's as if they have been censored. When governments like the UK fail to speak out publicly, it fuels a sense that China can get away with murder."