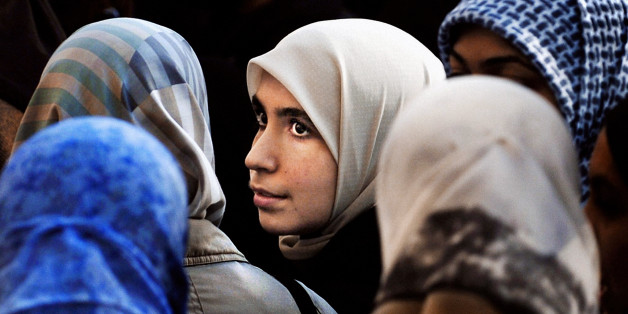 David Cheskin/PA Archive
Birmingham's Islamic community is being "bullied into submission," say Muslim youths, who have weighed in on the verypublic spat between Michael Gove and Theresa May over an Islamic extremist "plot" to take over schools.
May's letter, in response to one sent by the education secretary, which has not been published, stated: "We do.. need to recognise that many moderate Muslims, as well as people of other religions, believe that covering one's hair is a religious requirement and some parents will therefore want their children to do so.
"The text on dress requirements should therefore not be part of the extremism definition.."
SEE ALSO: Muslim Students Banned From Wearing Veils, Niqabs, For 'Safety' At Birmingham College

When Did Michael Gove Become The Government's Expert On Muslims Or Extremism?
The public is still in the dark as to what Gove's letter contained, however young Muslims have voiced their concerns over the implications of the home secretary's response, as well as the controversial 'Trojan Horse' plot.
"It is incredibly worrying," says Sofia Ahmed, an international relations student at Birmingham University, told The Huffington Post UK. "Gove represents the views of a small minority of neo-cons that disguise their Islamophobia by using anti extremism as a smokescreen.
"Last year when a college in Birmingham tried to ban the Nikab there was an uproar. I organised a protest which mobilised hundreds of people of the Muslim faith and others who felt that the measures imposed on Muslim students were discriminatory.
"The whole Trojan horse debacle is nothing but an attempt at bullying a community in to submission. As usual the political elite home in on the obvious by linking extremism with a piece of cloth.
"A piece of cloth does not turn someone into an extremist."
Ibrahim Ali, vice president of student affairs at the Federation of Student Islamic Societies (FOSIS), told HuffPost UK he was "extremely concerned" over Gove's apparent views.
"He appears to have projected his extreme ideals of what constitutes freedom of choice to wear religious symbols.
"He has, from what has been reported, grossly abuse his position by cyclically exploiting the 'Trojan' horse investigation into a warped American-style neo-conservative approach to religious symbols.
I think there must be a review as to how the Education Secretary could be allowed to insist religious headwear could constitute a sign of extremism.
"This could have a significant impact on the rights and freedoms of people in Britain."
Following the publication of May's letter, which somewhat overshadowed the Queen's speech on Wednesday, David Cameron intervened in an attempt to cool rising tensions in the cabinet.
In a statement last night, both Gove and May said they were "working together" on the alleged plot by hardline Islamists to seize control of classrooms in six Birmingham schools.
Conservative Party chairman Grant Shapps also sought to cool hot heads, insisting such exchanges of views were "a perfectly normal part of government and is absolutely right".
In a letter to her fellow Cabinet minister, May said concerns had been raised about the "inability" of local and central government to tackle the alleged plot. She also questioned whether Gove's department was warned about the allegations in 2010 and asked: "If so, why did nobody act?"
A spokesperson for the Department for Education said: "The Secretary of State does not support a ban on religious headwear for pupils in all state-funded schools."