Nigel Farage has said he plans to "ignore disabled people" from now on, after a tabloid linked him with a blonde woman he was seen arm-in-arm with in the early hours during a conference in Malta.
The married Ukip leader said any allegations of impropriety by the Daily Mirror were 'fluff and nonsense', after he was photographed holding the hand of Ande Soteri, commercial director of the Institute of Travel and Tourism. Soteri was carrying a single crutch.
Speaking in Newark after his party were comfortably defeated by the Tories in a by-election, Farage told the Telegraph that he had not even taken Soteri's phone number.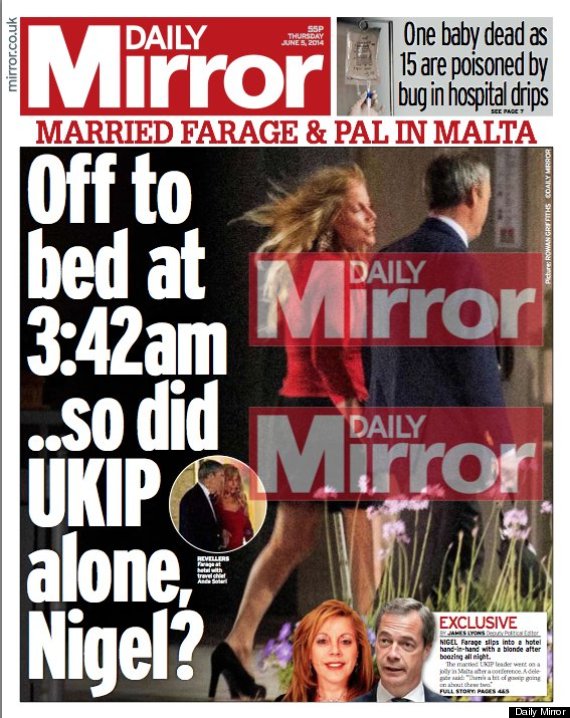 The Daily Mirror's front page on Thursday
"The next time I see a disabled person I am just ignoring them. She is a seriously disabled woman on a crutch and I actually helped her by carrying her bag.
"It [the allegations] are just fluff and nonsense. She is a disabled woman who I helped back to the hotel."
Asked if he had gone to her room, he retorted: "End of conversation."
Nigel Farage Has Questions To Answer, Says Daily Mirror, After Photos Show Him Entering Hotel 'Hand In Hand' With Woman
In his column for the Independent, Farage hit back at the allegations, calling it a "disgraceful front page "story" in the Daily Mirror".
"That group of papers now seem to view me as a paparazzi target; their alliance with Hope Not Hate and other assorted left wing extremists promoting negativity against Ukip having failed to stop us succeed in the recent elections," he said,
He said his wife was "doorstepped by a sleazy hack waving grainy photographs" because he had been "helping a partially disabled woman who has to walk using crutches back to the hotel all the delegates were staying in".
SEE ALSO:

Newark Says No To Nigel: Relief For David Cameron As Tories Win By-Election

Do These Graphs Show Ukip's Bubble Bursting?

Not A Single Lib Dem MP Even Bothered To Campaign In Newark: Candidate

Tory Minister Rolling His Eyes At Ukip's Diane James At 3am Was The Best
"Being blonde and talking to me without taking to Twitter to slag me off made her, in the eyes of that paper, an acceptable target for intrusion," he added.
He then pointed out that Helen Grant, the sports minister who he wrongly described as being a Cabinet Minister, as well as Lord Adonis and the Transport Secretary had all attended the conference but were not "splashed on the front pages accused of luxury living instead of being back in Blighty in the rain.
"I guess it's because she isn't the leader of Ukip but an Establishment politician who fits in nicely with the cosy club of lobbying groups and media organisations who crowd around Westminster."