A tiny London flat, billed as a "modern studio apartment" that was rentable for £737 a month, has been taken off the market by Islington council after inspectors ruled it was too small to comply with legal requirements.
The flat, on Kember Street, was billed as having a reception, kitchen and bedroom, when they are all part of the same room. It was snapped up in less than 16 hours after being listed on property website Rightmove, but the local council later stepped in.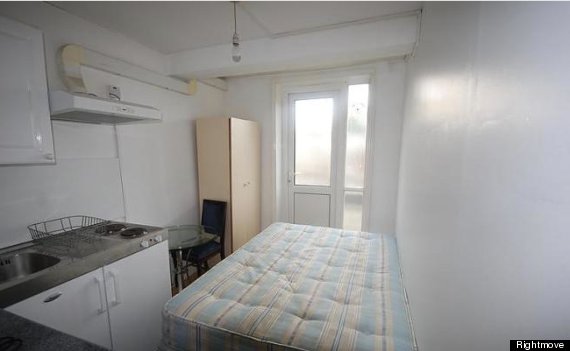 Inspectors were called and imposed an order on Thursday stopping the flat from being rented out. James Murray, the council's housing chief councillor, said: "The problem is that people are getting squeezed by high private rent prices and the lack of affordable housing, so you get landlords who are in a position to exploit people."
See also: This Islington Flat Is Horrifyingly Small And Expensive (PICTURES)
Murray pointed out that despite being marketed as a "modern studio apartment", it was not possible to open the door of the cupboard under the sink in the flat as the bed obstructed it.
Andrew Panayi, landlord of the now closed flat, told the Guardian that the photo "didn't do justice" to the flat, adding: "They didn't photograph the bathroom or the [communal] roof terrace."
The studio was advertised as featuring an en-suite bathroom and "natural deco and laminated floor boards throughout" and is fully furnished.
A spokesman for estate agent relocate-me.co.uk, which marketed the flat on property website Rightmove, admitted that the flat was "small". "A lot of people renting these apartments would be professionals just wanting a place to crash," he told the Huffington Post UK.
He admitted: "It's not something that's homely, not at all."
SEE ALSO: Squalid, Filthy And All Yours For Just £115,000 (PICTURES)

Earls Court Studio Flat Is Stupendously Small & Severely Expensive (PICTURES)