Robbie Williams has revealed that he's been barred from playing in the upcoming Soccer Aid football match because he can't get insurance to take part.
The 'Candy' singer is in the middle of a huge tour, meaning he can't risk making his existing back injury any worse.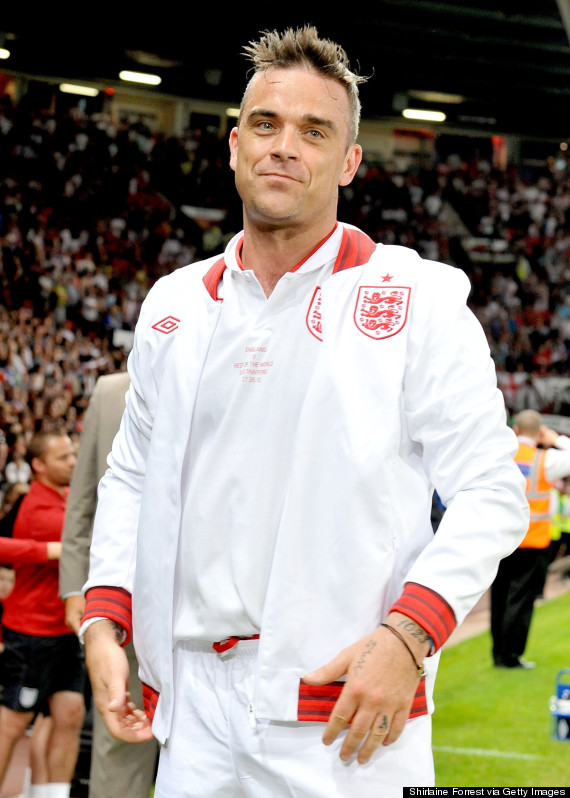 Robbie captained England at the 2012 Soccer Aid match
As he can't get his footie kit on and join the other celebs playing in the match, Robbie has been appointed Assistant Manager to Sam Allardyce - the man in charge of making sure the England XI beat Jose Mourinho's Rest Of The World XI.
"I can't get the insurance to play because I'm in the middle of a tour," he explains to The Mirror, jokingly adding: "We just came in from Zurich and if I do the back in out on the pitch, the tour goes kaput and I'll have to sell either Ayda or Teddy. And I'll miss Ayda."
"I've got two discs rubbing together on my back," Robbie explains. "My body is going: 'You're 40, and this is what's happening.'
"When you were 18/19 you didn't care, and you were going to do it anyway you say, 'I'm never going to get old.'
"Well, I'm there now. My body is knackered."
Robbie is currently expecting his second child with wife Ayda.
The Soccer Aid match takes place every two years and was first masterminded in 2006 by Robbie and his best friend Jonathan Wilkes.
This year's match is set to take place at Old Trafford on Sunday 8 June. All proceeds from ticket sales will go to UNICEF.
Both teams include a mixture of celebrities and former professional footballers.
Olly Murs and Jack Whitehall are two of the stars joining Jamie Redknapp and David Seaman on the England team while the Rest Of The World XI includes Michael Sheen, Westlife singer Nicky Byrne and former pros Andriy Shevchenko and Alessandro Del Piero.
LIKE US ON FACEBOOK | FOLLOW US ON TWITTER