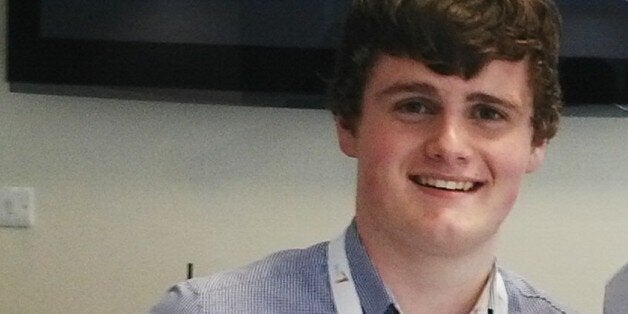 15-year old Irish tech whizz Harry McCann certainly seems altruistic, having started a business - Kid Tech - with the plan to teach fellow young people the art of coding and general tech savviness.
McCann started his business, supplying computer courses and workshops, last November. Nearly 70 children have used McCann's courses to learn how to code so far, and the business has gained a number of high-profile fans like actor Stephen Fry and Thinkspace founder James Anderson.
HuffPostUK caught up with him to find out how he has made it so far, and where he's aiming to go.
How did you get the idea to start Kid Tech?
I came up with idea of Kid Tech back in mid-2013 after spending two years mentoring in my local CoderDojo. I was inundated with requests to expand on the foundations that had been laid down by the programme so I did some research and saw that no-one was catering for these demands. There was clearly a hole in the market so I decided to fill the hole.
Was it hard starting the business?
When I started up originally I found it quite hard, it took up a lot of time and as I was and still am currently in exams, I had both the pressure of school and work on my back. This was quite hard for the first few months, but after a while I slowly found a way to fit both school and work in and still have time to myself.
It also helped that after a while I really no longer saw what I was doing as work, but as something I truly love to do. I finally started to understand the quote - "Do what you love and you'll never work a day in your life".
How did you get the money to start the business?
I was very lucky when I originally started Kid Tech, I needed very little money because I managed to get free premises from my local project centre and most of what I needed to teach was on my computer. It shows all teenagers that to start your own business you really don't need loads of money, just an idea and the determination to go ahead and do it.
Is it as easy to be in business at 15?
It takes up a lot of my time and there is a lot of work involved but I would much rather be doing something productive with my time and something I enjoy doing than sitting around all day watching television or playing computer games.
What's your message to other young people interested in business? I
My message is that it is great to get into business, the experiences I have had in the last few months have been amazing, the people I have got meet and speak to is unbelievable and if I hadn't started Kid Tech, I might never have got to experience some of the things I have or speak to the people I have, so do it, take that step and start your own business.
What's the ultimate plan? Retire at 30? World domination?
I originally considered world domination but I felt it would take up too much of my time...!
Instead the aim is to hopefully soon open the first Kid Tech Computer Lab in Ireland and then hopefully spread Kid Tech around the World so it can be the number one place for kids to learn about technology and computers.

Related