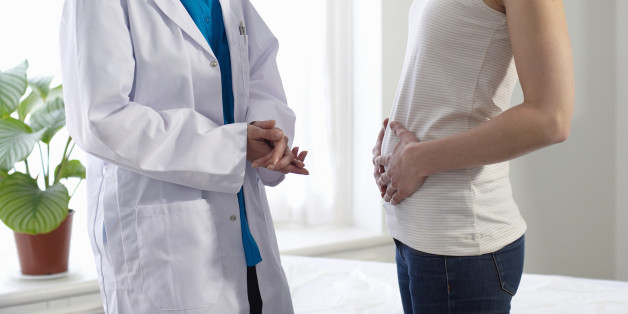 Dougal Waters via Getty Images
Anti-abortion activists who attempt to stop women visiting a clinic for terminations have been barred from the facility using rioting legislation, according to the campaigners.
Officer issued Section 14 Public Order Act notices after complaints the activists "intimidate" women to get them to keep their unborn babies, according to the Daily Mail. The notice said the organisers intend to "compel them [the pregnant women] not to do any act they have a right to do" and pose a "serious risk of disruption to the life of the community". The force has since admitted its issuing was heavy-handed.
Staff at the British Pregnancy Advisory Service in in Twickenham, West London had complained to police they were being harassed by the Catholic group, who conduct US-style demonstrations outside two other clinics and show graphic images of embryos throughout stages of pregnancy.
One neighbour told the Mail the activists were "deeply worrying" and that the campaigners were "pestering women who are at a difficult time in their lives".
The Good Counsel Network said their activists had been made to feel like criminals, and do not stop anyone going into the clinic or block women's paths. "The officers were very aggressive and I felt very harassed and mistreated by them," one activist Justyna Pasek told the Mail.
"I thought this was a free country, but this reminds me of the communist rule I used to live under when I was a little girl in Poland."
The group, which calls clinics "abortuaries" describes itself as "reaching out to women seeking abortion who have not been informed about the risks to their physical and psychological health and who have not been presented with realistic alternatives to abortion."
Clare McCullough, a director at GCN, said: "We see girls coming out and being sick on the pavement and we have seen girls being marched in by parents and boyfriends. The girls sometimes tell us that they don't want the abortions but they are being forced into them. The clinic just doesn't like us seeing what they're doing."
A Scotland Yard spokesman said: 'We have acknowledged the concerns raised by those affected by our actions. Following a review of the decisions taken on those days, we now acknowledge that the implementation of Section 14 notices under the Public Order Act 1986 was incorrect.
'The Metropolitan Police Service respects the right to lawful assembly and freedom of speech.
'But we will take action, where it is appropriate to do so in accordance with legislation, so that we can protect the rights of others not to be intimidated.'