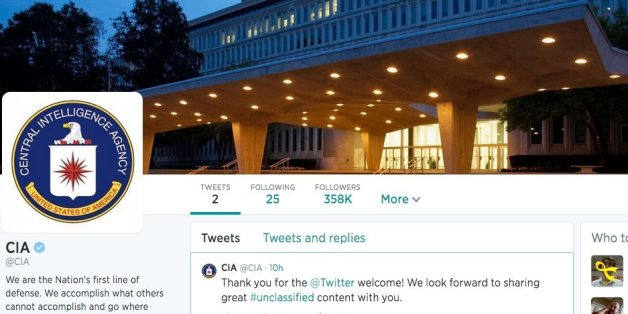 Twitter
The Central Intelligence Agency has launched a Twitter account, and it's really... humorous?
We can neither confirm nor deny that this is our first tweet.

— CIA (@CIA) June 6, 2014
Thank you for the @Twitter welcome! We look forward to sharing great #unclassified content with you.

— CIA (@CIA) June 7, 2014
The account, @CIA, has attracted tens of thousands of followers within hours of launching on Friday.
On Twitter, or so it seems, the secretive agency was following only 25 other accounts - all US government agencies.
Twitter users gleefully reacted to the internet arrival of the agency:
Welcome to Twitter, @CIA. Now we can finally return the favor and follow you too.

— Huffington Post (@HuffingtonPost) June 6, 2014
.@CIA joins ██████ and ███████████: http://t.co/ZLwN5XJHsl - @leeferran

— ABC News (@ABC) June 6, 2014
Welcome @CIA to @Twitter! I look forward to REDACTED and REDACTED...

— Patrick Tucker (@DefTechPat) June 6, 2014
.@CIA What is Claire Danes like in real life?

— Kaitlin Devine (@kaitlinbdevine) June 6, 2014
In an interesting turn of events, I'm now following the @CIA. Welcome to Twitter! #CIAisonTwitter

— Ellen DeGeneres (@TheEllenShow) June 6, 2014
The punch line to the new @CIA feed is not that it has 67k followers after 1 tweet, but that it claims to be following only 25 people.

— Will Saletan (@saletan) June 6, 2014
I wonder if the @CIA and @NSA_PAO can DM each other.

— Ari Fleischer (@AriFleischer) June 6, 2014
The agency's director John Brennan said in a statement the social media outreach was part of its effort to directly engage with the public.
"We have important insights to share," he said, "and we want to make sure that unclassified information about the Agency is more accessible to the American public that we serve, consistent with our national security mission."
The CIA, which already has Flickr and YouTube accounts, also joined Facebook on Friday.
The agency, based in Langley, Virginia, promised to share reflections on intelligence history and other information on the new accounts.