Undecided voters in the independence referendum have moved to Yes at a rate of two to one compared with those who have shifted to No, according to the Yes campaign's research.
But the sharp increase in English support for Scottish independence three years ago has now melted away as the campaign enters its final 100 days, according to a national survey.
Yes Scotland leader Blair Jenkins said independence is "a prize that that we must do everything in our power to secure for the people of Scotland".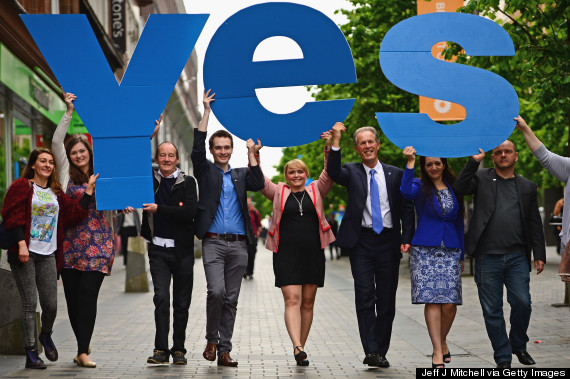 David Hayman and Yes Scotland Chief Executive Blair Jenkins join members of the Yes Scotland team
"I know there are many people who remain to be convinced and it is by talking with them in millions of conversations that we will win them over to Yes.
"Over the next 100 days I appeal to every single person who believes in Yes to make it their business to talk with and persuade those who remain undecided to come our way."
A hundred Yes Scotland volunteers formed a "gigantic human Yes" in Edinburgh and displayed 100 arguments for voting for independence ahead of today's milestone.
Morning. It's #100days2go to #indyref. Whether we are #Yes or #No, let's resolve to make sure next 100 days are a credit to our country.

— Nicola Sturgeon (@NicolaSturgeon) June 9, 2014
100 days to go until #indyref. Whatever the outcome, let the integrity of the debate make us proud. @YesScotland@UK_Together

— Martin Johnstone (@MartinJohnston8) June 9, 2014
Better Together leader Alistair Darling said in a statement on the eve of the countdown to the referendum that "the nationalists are running out of arguments - and they are running out of time".
Scotland faces a choice between two competing Scottish visions of the future, according to Darling. "Something fundamental has changed in that choice since I launched our campaign two years ago," he said. "At that time some of those who were still undecided saw the referendum as a choice between change and the status quo. Now - with 100 days to go - the terms of trade have changed. And with it the ground has shifted under - and against - our nationalist opponents.
"For it is now clear that a No vote will bring more powers to Scotland within the UK. Last week, the Scottish Conservatives produced their proposals for the enhanced powers of the Scottish Parliament. All three main Scottish parties backing a No vote now have broadly similar proposals in place.
On The Blog.. Alistair Carmichael: The Final Countdown
"There is much that divides us on other issues. But on the constitution - the framework within which legislation is made - we are all now pretty much on the same page. I want every voter to understand that within the United Kingdom change and progress is coming to Scotland, under-pinned by the commitments of all three parties.
"We will be offering the guarantee of a constitutional future for Scotland which corresponds with what the great majority of Scots have told us they want."
Today, Shadow Scottish Secretary Margaret Curran will address the GMB Congress as the trade union reaffirms its support for a No vote. She will say that Alex Salmond's "plans for a corporation tax cut and his refusal to back a 50p tax rate show where his real priorities lie".
"The SNP's first action for our economy would be to hand money back from the Scottish Government to big business," she is expected to say.
"They would take money that could fund our schools, our colleges or our hospitals. And send it back to those with the deepest pockets.
"Congress, if you need to know anything about the SNP's priorities for separation I say look no further."
Meanwhile, a survey has revealed that only a fifth of people in England think Scotland should become independent, compared to a quarter in 2011. Support has now fallen back again to 21%. Almost half of English people think Scotland should remain part of the UK with devolution of some powers while 18% think it should be part of the UK without its own parliament. The findings are part of the NatCen Social Research social attitudes survey.
The survey, conducted last year, asked 925 people in England about their attitudes to Scottish independence.
It also found that only 16% of people think it would in England's interests to leave the UK while there is also little demand for devolution south of the border.
Only 19% want either an English Parliament or an assembly in each region of the country. Over half - 56% - think England should be governed by Westminster as it is now.
Story continues after slideshow
Report author Professor John Curtice said: "Some have argued that a backlash has been developing south of the border against the advantages that Scotland seemingly enjoys and the demands it continues to make.
"But rather than being fuelled by the independence debate, whatever signs there were of such a reaction have apparently been snuffed out.
"England at least seems to have decided that the union is worth preserving, though whether people in Scotland will take the same view remains to be seen."
The latest figures follow a Populous poll for the Financial Times last week which found the majority of English and Welsh people want Scotland to remain part of the UK.
Some 55% of those who expressed a strong preference want Scotland to stay while 15% support a split. The other 30% had no strong opinion.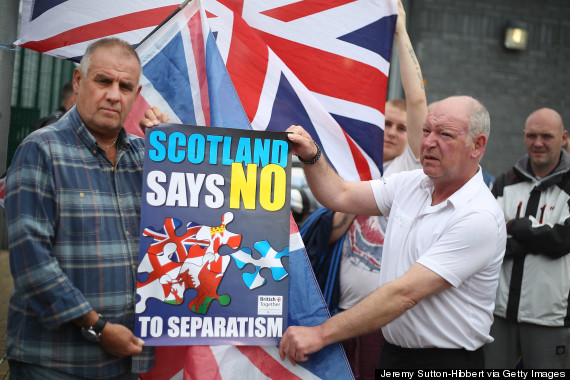 Two men hold up a sign during a Unionist demonstration outside Fernhill Community Centre during a Scottish Cabinet meeting
Andy Lythgoe, of the pro-independence group English for Yes, said: "People in England understand that Scotland is a very wealthy and valuable country so it is not surprising that fewer people south of the border than in Scotland support Scottish independence.
"However, this referendum is about who is best placed to make decisions about Scotland and the rising number of people who back a Yes vote - 46% in the latest Populus poll for the Financial Times - shows clearly that more and more people believe the answer to that is the people who live and work here.
"A Yes vote makes sense not only for Scotland but for the rest of the UK too because it will help to rebalance the economy throughout all of these islands by having a more powerful Scotland. And as equal partners, our close family, social and cultural ties will continue to flourish to the mutual benefit of all."
Speaking on behalf of the Better Together campaign, Labour MSP Jackie Baillie said: "It's encouraging that so many people living in England recognise the value and strength of the partnership we have as part of the UK.
"People living in England do not have a vote, but they certainly have a voice and they should feel free to make that heard. The fact that two-thirds of people in England want Scotland to stay in the UK shows that pooling and sharing our resources across the whole of the UK works.
"The only way to keep the UK together is for Scots to vote No in September. As part of the UK we can have the best of both worlds.
"We can be proudly Scottish and keep our unique identity, and we can be part of a larger family of nations at the same time. Only separation puts that at risk."