A second severe weather warning for heavy rain has been issued in less than a week as intense thunderstorms are predicted.
Forecasters predicted intense thundery downpours likely to develop from 12pm today in areas of England.
The Met Office said the downpours could bring mean flooding and there could be hail and gusting winds. Around 20mm (0.8ins) of rain is predicted to fall in an hour in some areas.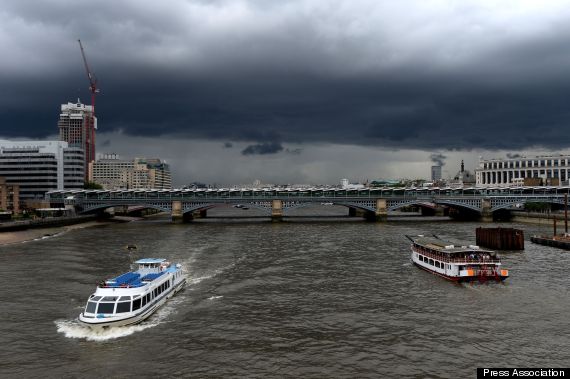 The storms prompted the second severe weather warning in less than a week
A yellow "be aware" weather warning has been issued by the Met Office for Yorkshire and Humber, the East and West Midlands, the East of England and London and south east England.
The warnings, in force until 8pm tonight, mean there is a moderate risk of some damage to infrastructure and local disruption.
A Met Office spokeswoman stressed that the majority of areas would see less than 20mm rainfall.
"It is not going to be uniform, we are looking at thundery showers within that area. Some places will get lighter rain and not see any thunder or hail," she said.
"What we are getting is fairly typical weather for early summer. From midweek onwards we are looking at sunny spells and fairly dry for most of the country with generally dry, cloudy conditions in the West.
"It is a mixture of sunshine and patchy cloud. There will be a little rainfall here and there but it will be fairly dry for the rest of the week."

Temperatures will be slightly lower than at the weekend with a highest temperatures predicted of 19C for Leeds, 19/20C for Southampton, 16/17C for Plymouth and 20/21C for Bristol. St James's Park and Kew in London are forecast to register temperatures as high as 24C. This compares to a high yesterday of 25.4C for Gravesend in Kent.
The fresh storm prediction comes after the Met Office issued a severe weather warning last week for Saturday with forecasts of heavy, thundery rain battering parts of England, Wales and southern Scotland.
But fears that some places could see flooding and an entire month's rainfall in just one hour turned out to be misplaced, with Britain spared the worst as the summer storms swept the country.
The heaviest downpour was registered in Santon Downham, Suffolk, which saw 18.2mm fall in one hour, followed by 16.4mm falling in Bickley, Worcestershire.
It fell well short of the 30mm - almost half of the UK monthly average for the whole of June of 73.4mm - which had been forecast as a possibility.
Last month, the Shard in London - western Europe's tallest building - was struck by lightning during a thunderstorm.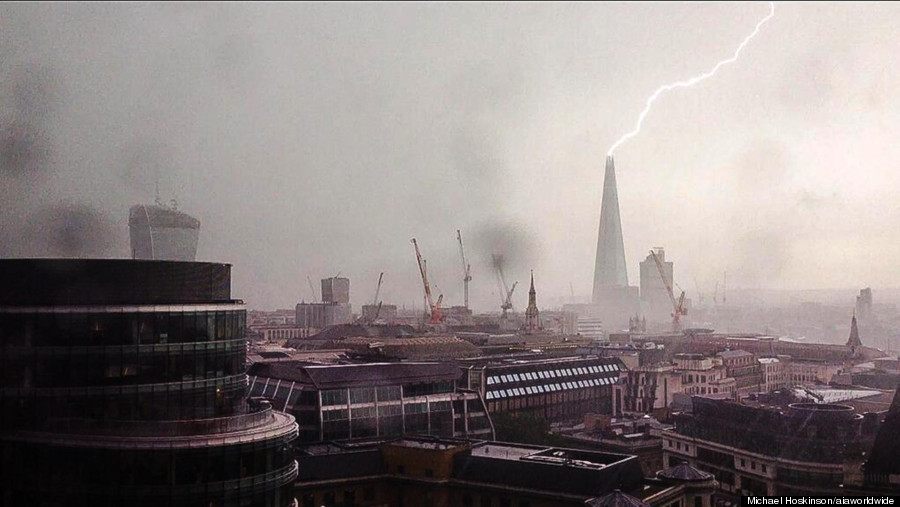 The incredible moment lightning struck the Shard last month
A three month outlook from the Met Office for June to August shows the UK is likely to see temperatures which are close to or above average over the summer, with a 25% chance it could be one of the warmest, compared to a 10% it is one of the coldest.
But while the UK is more likely to see above average temperatures over the next three months than cooler than normal conditions, that does not mean the country will be basking in sunshine.
The warm temperatures could still be reached with milder nights, which can occur in summer in cloudy and wet weather, the forecasters said.
The Met Office's 30-day forecast predicts that after today, the weather is expected to settle down with many areas having some warm sunshine, although there are still likely to be showers in the north west.
"From mid June to early July, the indications are that the weather will be close to what is climatologically normal for this time of year - giving us a tendency for occasional spells of unsettled weather interspersed with fine and warm spells, much as we have seen recently," the Met Office blog said.