Presenter Adrian Chiles was joined by former Arsenal right-back Lee Dixon, ex-France World Cup winner Patrick Vieira and Italy's 2006 World Cup-winning captain Fabio Cannavaro.
When the station was back on air following the post-match commercial break, Chiles explained protesters had targeted nearby TV studios, accompanied by shots of cracked glass.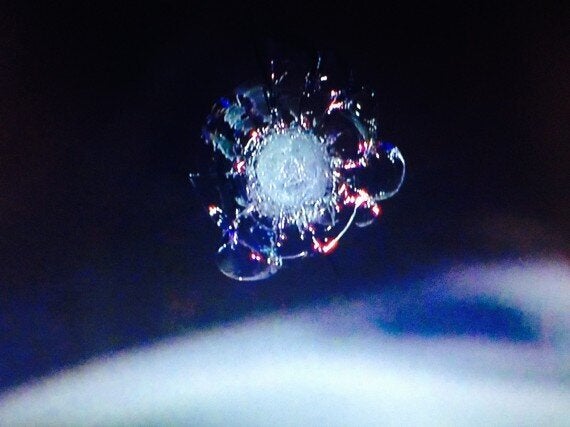 Other TV studios were targeted by protesters, Chiles said
"This demonstration materialised about 10 minutes before the end of the game," explained Chiles. "We were all sitting up here and then suddenly sharp, clattering sounds started greeting our ears and that was them pelting the glass of our studio and other studios around here.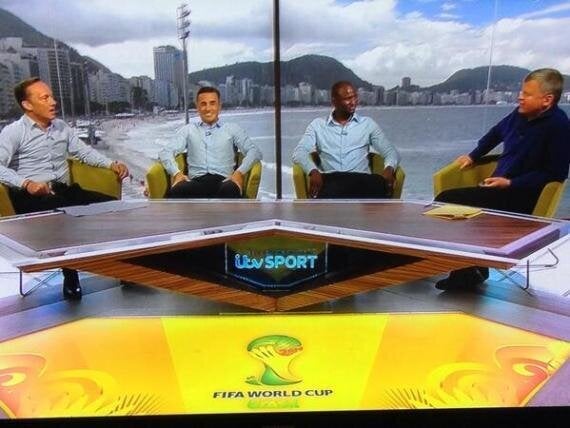 Dixon, Cannavaro, Vieira and Chiles on air during ITV's coverage of the opening game
"We did try to explain to them none of this is our fault at ITV Sport."
"If we have no rights, there won't be a Cup," one banner declared. Even Brazil's golden boy Neymar, jeered at the friendly against Serbia, has said he has some sympathy.
"If people want to manifest and fight for a better country, let it be," the Barcelona forward said. "I'm with them but I'm against violence. There is difference."