Miliband is facing a fierce backlash from politicians in Liverpool after endorsing the newspaper's campaign to deliver 22million free copies to homes across country in honour of the World Cup.
All the main party leaders have been pictured with the special edition of the Sun.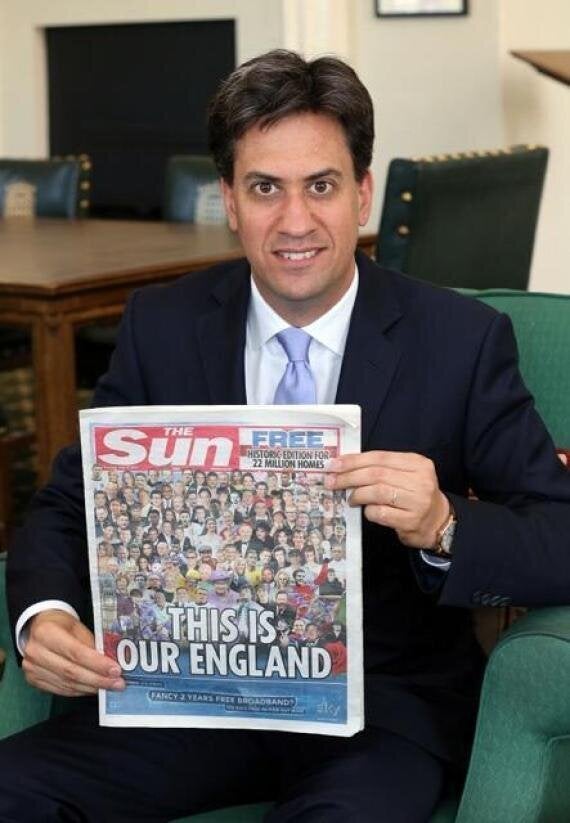 Miliband posing with the paper, in a photo sent to The Huffington Post UK
The campaign has proved controversial with homeowners across the country – in particular in Merseyside, Cheshire and West Lancashire, where postmen are refusing to deliver the special edition.
Scores of people took to Twitter to show off handmade signs calling on posties not to deliver the free tabloid, while others commended the paper for not including a topless Page 3 model.
Miliband has defended his decision, saying he was simply showing support for the England squad and not the newspaper, but has added that he understands the anger directed towards the promotional shoot.
But Labour Cllr Peter Mitchell has said Miliband should resign. "He should be thoroughly ashamed of his actions. I think he should consider his position as leader of Labour Party," he told the Liverpool Echo.
A number of Liverpool MPs, including Steve Rotheram confirmed on Twitter Miliband would be making a statement over the issue.
"[Miliband] was left in no doubt whatsoever about what they thought," the source said. "Ed Miliband said he was very, very sorry."
In a statement, Labour said Miliband: "Understands the anger that is felt towards The Sun over Hillsborough by many people in Merseyside and he is sorry to those who feel offended."​
Margaret Aspinall, chair of the Hillsborough Family Support Group, said Miliband's apology was "a bit late" but criticised all three party leaders.
Aspinall, attending the inquest into the death of her son James at the Hillsborough inquests in Warrington, added that "common sense should have prevailed and that she "can't understand the insensitivity of what they have done."
"At this moment in time, it was a stupid thing to do. You have got to think about all the people it affected," she added.
"I have met Mr Cameron, I have met Clegg and I have met Mr Miliband. The three of them have been very insensitive here, but more so, I think, Ed Miliband. He should have had more common sense."
Liverpool Mayor Joe Anderson also condemned Miliband's actions, claiming that every person in Liverpool would be insulted by his decision to pose with the paper.
"My city was offended and insulted by the lies and smears peddled by The S*n and their hindrance to our fight for justice is something that will never be forgotten," he wrote in a statement.
"For the leader of the Labour Party to make such an offensive gesture insults not only me but every person in the city. This is just another example of how out of touch the politicians in their ivory towers are from the lives of ordinary people."
A Sun spokesman told HuffPost: "The Sun wants to thank Ed Miliband for having his picture taken and cheering on England to #DoUsProud in Brazil.
"The free edition of The Sun is an unashamedly positive celebration of Englishness, and it should come as no surprise that politicians on all sides are happy to get behind our uplifting message.
"This project has shown once again why The Sun is the nation's biggest newspaper and at the forefront of innovative journalism that delights, entertains and employs hardworking people across the country."
The MP for West Bromwich East has now contacted the Royal Mail and Attorney General highlighting a possible breach of the Printers Imprint Act of 1961 and the Newspapers, Printers, and Reading Rooms Repeal Act 1869, asking for further investigation of the issue.
According to a letter sent by Mr Watson, copies of the paper apparently lack a legally required imprint which shows basic address and contact details of the Sun's printer – with 22 million copies at up to £50 fine per copy, that's a fine of up to £1.1 Billion.
Mr Watson said "the law seems to be pretty clear and in this case, rigid.
"I await to see how the Attorney General will enforce the law but until then, I'm sure Royal Mail will take the precautionary approach and halt distribution until the situation is clarified by Dominic Grieve.
The Sun told the Huffington Post they were aware of the issue.
Media law expert David Banks told HuffPost the law seemed like as "oddity".
"If The Sun loses a billion pounds over this I will eat my copy of The Sun in the offices of The Huffington Post for your photographers," he said.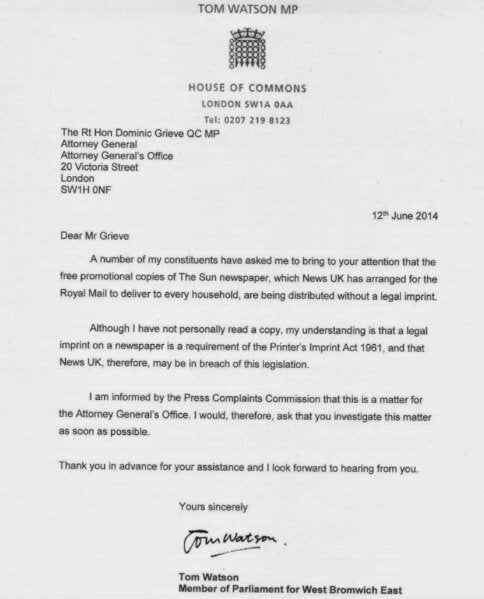 Tom Watson
Reacting to the picture of Miliband, Mr Watson wrote today that he hopes "Ed managed to get home in time to have a beer and watch the Brazil game last night, if only to take himself away from from Twitter, overflowing with discommoded Labour party supporters, many of whom had spent the day sellotaping up their letterboxes.
"I hope Ed has a stern team talk with those cheeky monkeys in the press team over why he finds himself in an unnecessary embarrassing situation, again," he added.
Liberal democrat peer Lord Storey, a former mayor and leader of Liverpool City Council has also urged Nick Clegg to issue an apology.
"I don't think people outside of Merseyside realise the great upset and harm The Sun caused to the people of this city," he told the BBC's Daily Politics.
"It is an insult to what has happened. Both Miliband and Nick Clegg should clearly apologise for the hurt that they have caused."
Meanwhile, there has been a continuing outpouring of anger from residents who are less than pleased about being sent the free copy of Rupert Murdoch's paper.
After HuffPost UK posted our original story on Thursday, The Sun's PR man wanted to point out that its free paper had in fact had plenty of support and helpfully sent the HuffPost UK some happy tweeters.
Sun managing editor Stig Abell told BBC radio 4's World at One Friday that the special edition was "fun and lighthearted", and stressed it had not been delivered in the Liverpool area.
"We were of course very conscious of the sensitivities around Liverpool," he said.
"The Sun recognises that it was the biggest mistake in the Sun's history.
"It has apologised on numerous occasions for getting something so terribly wrong 25 years ago.
"So we absolutely accept that, we don't expect forgiveness from people in Liverpool and we have been very clear about saying that.
"What we are trying to do.. is celebrating both the idea of a print product getting to 22-odd million houses, and also celebrating the World Cup, Englishness, a feeling that summer is here and people want to have a good time."
Mr Abell added: "Ed Miliband appeared in the back of a black cab talking about the European elections a month ago, he has written for the Sun on Sunday... of course they want to get involved in this because we are trying to do something that unites the nation."