Britons must stop being "bashful" about their country's achievements, David Cameron has said, as he set out plans to teach all school pupils about "British values".
Cameron said they included "a belief in freedom, tolerance of others, accepting personal and social responsibility, respecting and upholding the rule of law".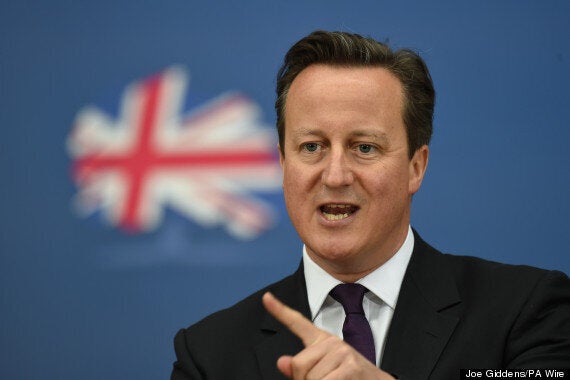 Cameron urged Britons to stop being "bashful" about their country's values
Writing in the Mail on Sunday, the prime minister said they were "as British as the Union Flag, as football, as fish and chips" and it was "not an option" for anyone living in this country not to live by them.
He wrote: "Sometimes in this country we can be a bit squeamish about our achievements, even bashful about our Britishness. We shouldn't be.
"Of course, we should teach history with warts and all. But we should be proud of what Britain has done to defend freedom and develop these institutions – parliamentary democracy, a free press, the rule of law – that are so essential for people all over the world."
He said that too much latitude had been allowed to opponents of democracy, equality and tolerance.
"In recent years we have been in danger of sending out a worrying message: that if you don't want to believe in democracy, that's fine; that if equality isn't your bag, don't worry about it; that if you're completely intolerant of others, we will still tolerate you.
"This has not just led to division, it has also allowed extremism - of both the violent and non-violent kind - to flourish," he said in the article.
"We need to be far more muscular in promoting British values and the institutions that uphold them.
"A genuinely liberal country believes in certain values, actively promotes them and says to its citizens: this is what defines us as a society."
Cameron said it was "a matter of pride and patriotism" to promote British values and history and urged people to stop being "squeamish" about doing so.
"As president Obama put it when he addressed MPs and peers in Parliament, 'What began on this island would inspire millions throughout the continent of Europe and across the world'."

Gove has pledged "decisive action" after schools inspector Ofsted issued a damning verdict on the running of a number of Birmingham's schools.
Inspections conducted following claims of a takeover plot by hardline Muslims found that a "culture of fear and intimidation" has developed in some schools and, in several, governors exerted "inappropriate influence" over how they are being run.
None of those which faced inspections over the "Trojan Horse" allegations were faith schools but shadow education secretary Tristram Hunt said he would like cross-party talks on the issue.
"Events in Birmingham have raised questions about faith, multiculturalism and state education and in the aftermath this is the moment to think about discussing, on a cross-party basis, how we manage potential tensions, particularly in urban districts," he told The Observer.