Labour will not win the general election unless it cuts out "schoolboy errors" such as Ed Miliband posing with a copy of The Sun newspaper, the party's former campaigns chief warned.
Miliband apologised for causing offence after the publicity stunt for the tabloid's World Cup special edition sparked outrage among party members in Liverpool and the resignation of a local councillor.
Liverpool Walton MP Steve Rotheram and city mayor Joe Anderson were among those who accused him of failing to take account of continued anger over The Sun's coverage of the 1989 Hillsborough disaster.
Former cabinet minister Tom Watson, who quit as election co-ordinator last year, said the episode had done "a lot of damage to our base" and insisted the leadership team had to "sharpen up".
In a statement, a spokesman for the Labour leader said: "Ed Miliband was promoting England's bid to win the World Cup and is proud to do so.
"But he understands the anger that is felt towards The Sun over Hillsborough by many people and he is sorry to those who feel offended."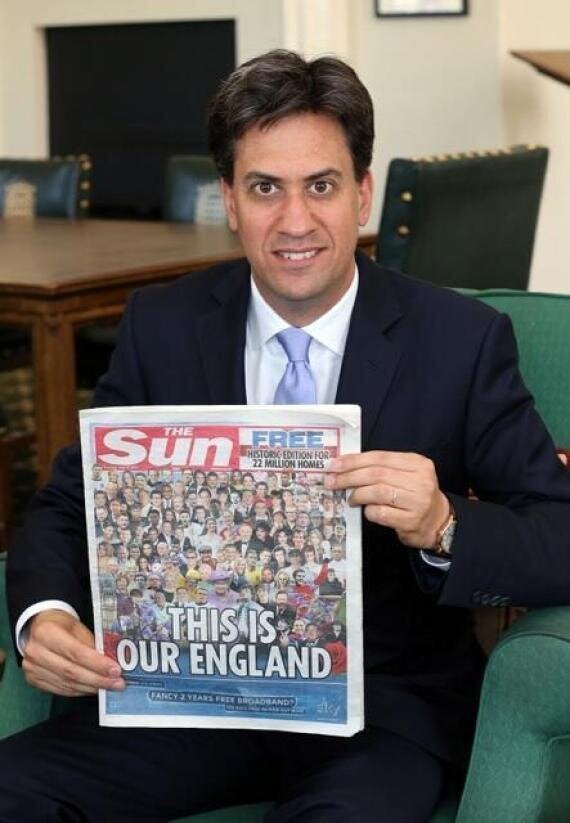 Miliband posing with the paper, in a photo sent to The Huffington Post UK
Asked about that justification on BBC Radio 5 Live's Pienaar's Politics, Watson said "no-one buys that argument".
The MP, a prominent critic of Rupert Murdoch's newspapers who was running a campaign encouraging people to send back their free copy, said the stunt - which saw David Cameron and Nick Clegg also pose with the paper - was aimed at courting the "all powerful" media boss.
Senior advisers have "either got to lift their game or move on", he suggested - adding that his concerns were shared at a senior level.
"I'm sure they'll be a lot of shadow cabinet members who are holding their counsel on this, but they are worried about the way Ed's office operates," he said.
"It was a serious mistake and it's done a lot of damage to our base."
"He was very badly advised. It was his ultimate responsibility to do it but I just cannot believe the paper ended up in his office and someone ending up taking a photograph of it, and it ended up on the internet."
Asked if he still believed Labour could win an overall majority in 2015, he told the programme: "I think Labour can win. But they've got to sharpen up.
"We've got the right message on the cost-of-living crisis, we've got some of the very best people at the top of the party, but these unforced errors cumulatively leave us in difficulty and it needs to stop.
"We had a leader of the Labour Party who was publicly embarrassed on Thursday because whoever was in charge of press let him go through a process where we had councillors in Merseyside resigning.
"It was a schoolboy error from someone who doesn't understand the Labour Party. You don't win elections if you can't build that alliance."

Ex-deputy prime minister Lord Prescott said he would have refused to be pictured with the newspaper - especially at the current time when inquests into the deaths of the 96 Liverpool fans at Hillsborough are taking place.
"No doubt advisers give advice but you can't keep blaming advisers," he told the Murnaghan programme on Sky News.
"At the end of the day a leader must make a judgement and he will be judged on his judgement. I wouldn't have done it."
He added: "Would I have done that? No. Particularly at the sensitive time at the moment just on Liverpool... an inquiry into the terrible circumstances of those deaths of those supporters.
"We have also got the criminal case now going on against Murdoch and the role of The Sun in the past, who I don't trust quite frankly.
"All papers have political positions. The Sun is quite clear it is Tory. The Mirror is Labour. I would not have done it with The Sun.
"That's my decision. Leaders have to make difficult ones and Ed has had to make this one."