A new Hackney bar has apologised for a string of tweets complaining about a stabbing victim coming to their restaurant for help were branded "dreadful" and "hateful".
The Bonneville, billed as "Hackney's latest and greatest bar and restaurant", sent out a tweet on Saturday, their opening night, with a picture of blood on the restaurant floor reading: "#CSI Clapton Due to events on Lower Clapton Road this evening, we will unfortunately have to close #WelcomeToHackney".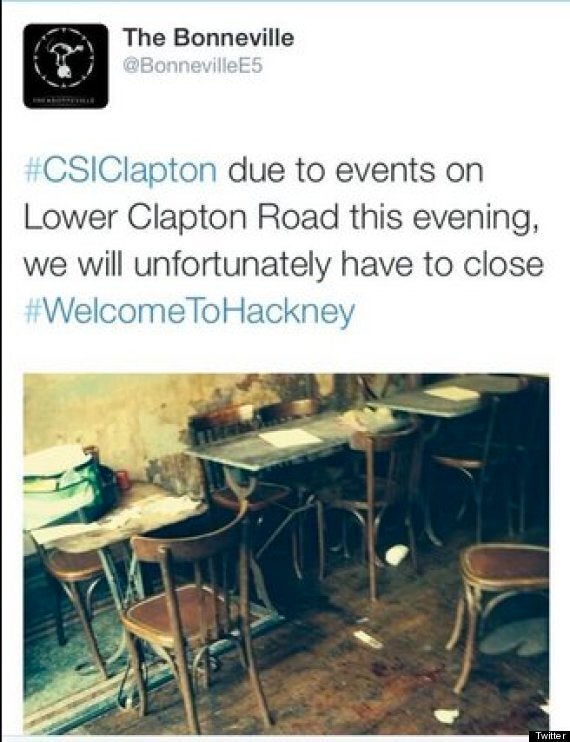 The neighboring Dreyfus Cafe commiserated on Twitter, saying: "Ugh. Sounds horrendous. Poor kid. And definitely not what you want for your first Saturday evening. Sorry to hear it."
In response, the Bonneville replied: "Some kid got stabbed over the road and decided to run into ours. Great look for our first week." The bar also later described the stab victim as having "only minor injuries".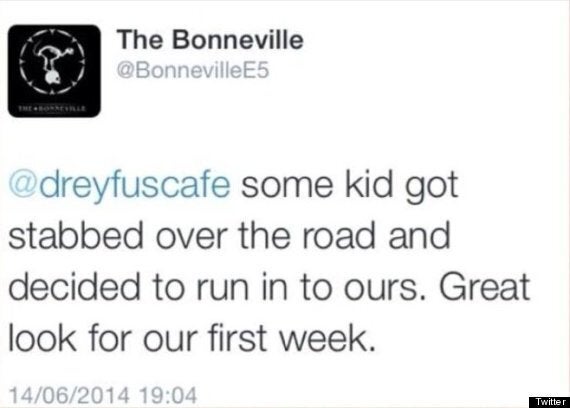 The Bonneville's tweets about the incident drew a storm of criticism on Twitter, with users branding the messages "hateful".
A local resident called Sarah wrote: "I moved here & my kids are born & bred here cos I love it here. Clearly you hate it here?" In response, the bar replied: "Born and bread here unfortunately."
The Bonneville later issued an apology on Sunday, reading: "After last nights events, we would like to apologise profusely for the comments on twitter, which were of course very insensitive and have now been removed.
"At approximately 6pm on Saturday 14th June, a young man in is early 20's entered our bar. He had an injury on his upper left arm from an incident on Urswick Road.
"The staff on site immediately called the emergency services and attempted to assist him, despite him being very aggressive towards them and more interested in calling his friends to gain retribution for his injury, rather than have his wound attended to.
"The emergency services arrived and attended to him, although he was still uncooperative. The young man is in a stable condition but unfortunately is not willing to make a statement or assist the police.
"Once again, we are extremely sorry for any comments that caused offence. It was a very frightening experience for all involved and bad judgement was used in the comment."
The bar's apology was not enough for some users on Twitter, with one writing: "Why not just write that this kind didn't deserve help?"