Boys climb trees, roll in mud and play fight. Girls like playing with dolls, make-up and reading.
That's the sexist message that Clarks are delivering in their advertising campaign for children's shoes.
The shoe store has been criticised for its use of blatant gender stereotyping on in-store posters, suggesting that boys are active as they "test their shoes to destruction" whereas girls are passively pretty "because girls love comfort and style".
Really, Clarks? Because we're pretty sure men wear Crocs too.
Emma Dixon took the above pictures on a recent visit to the Clarks store in Westfield, London.
Outraged at the posters, Emma started an online petition asking the company to remove their outdated signage.
Writing on her change.org page, Emma says: "Gender stereotyping has an important effect on children's development.
"To suggest that boys engage in active outdoor play of the type that destroys shoes, while girls are interested in fashion and looking pretty, is to reinforce damaging social stereotypes and to deprive both sexes of the opportunity to become who they really are."
The hashtag #letshoesbeshoes is gathering momentum on Twitter in support of the campaign.
This isn't the first time a high street store has been called out for advertising gender-specific products.
Sean Gray took a picture of sexist signs in Boots last year. The image was then retweeted by campaign group Let Toys Be Toys, who encouraged others to share the image on Facebook and Twitter.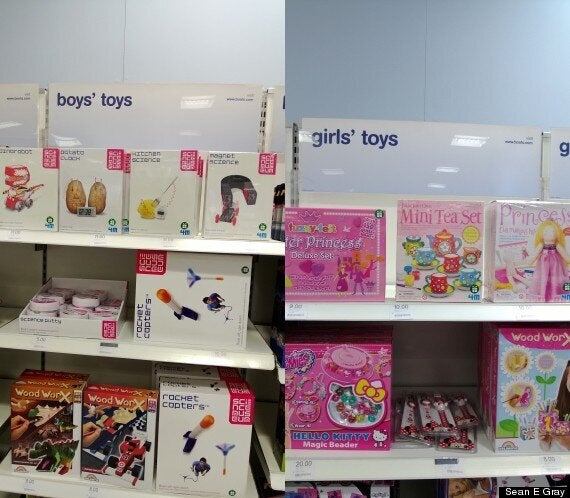 Original image tweeted on April 28 by @SeanEGray
On their website, Let Toys Be Toys are "asking retailers to stop limiting children's interests by promoting some toys as only suitable for girls, and others only for boys."

Let's hope Clarks make a similar decision!
Related