David Cameron will hold talks on Wednesday with his most senior security advisers to discuss the crisis in Iraq after he warned Islamist militants challenging the Baghdad government represented "the most serous threat to Britain's security that there is today".
The prime minister will chair a meeting of the National Security Council (NSC) as the Middle Eastern country showed ominous signs that open warfare between Shia and Sunni muslims had returned, as militants ISIS tore through the country.
The militants' onslaught even looked as though it might bring together old enemies - the United States and Iran - in an attempt to halt them.
Foreign Secretary William Hague announced on Tuesday plans to re-open the British embassy in Tehran, three years after it was ransacked by a mob protesting against international sanctions and after decades of frosty relations between the UK and Iran.
At a No 10 news conference following talks with Chinese premier Li Keqiang, Cameron insisted that the move was not designed to enlist the support of the Shia Iranians against the Sunni extremists of Isis.
He added: "Now we would be doing that anyway irrespective of what is happening in Iraq, but I think what is happening in Iraq is certainly not a reason for not taking that step."
While he has ruled out UK military intervention in support of the beleaguered government of prime minister Nouri al-Maliki, Cameron promised to do "absolutely everything we can" to protect Britain from the terrorist threat from battle-hardened fighters returning from Iraq and Syria.
"No-one should be in any doubt that what we see in Syria and now in Iraq in terms of Isis is the most serous threat to Britain's security that there is today," he said.
"The number of foreign fighters in that area, the number of foreign fighters including those from the UK who could try to return to the UK this is a real threat to our country.
"We will do absolutely everything we can to keep our people safe. That means stopping people from going, it means arresting people who are involved in plots, it means focusing our security, our policing, our intelligence effort on to that area of the world, on to those people."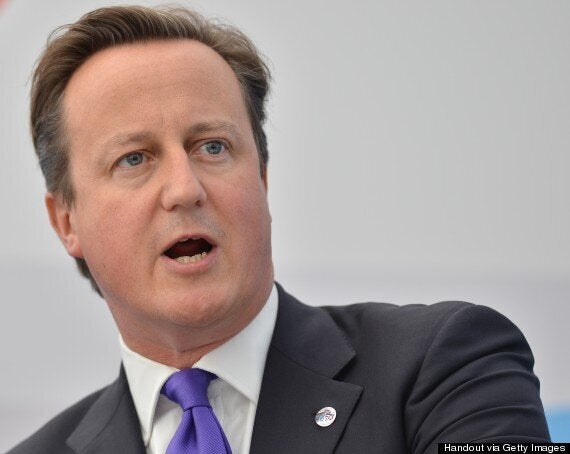 Cameron said the situation in Iraq was 'the most serious threat to Britain's security today'
The sweeping gains made over the past week by ISIS - who have also been fighting President Bashar al-Assad's regime in Syria - has threatened to tear apart Iraq and plunge the country back into a bloody, sectarian civil war.
Pictures of Isis fighters apparently executing captured Iraqi army soldiers have provoked international outrage.
US Secretary of State John Kerry has indicated that the administration would be "open to discussions" with Iran if it can help end the violence and that he would not rule out military co-operation.
Tehran has reportedly already despatched the commander of an elite unit of Iran's revolutionary guards, Qasem Suleimani, to Baghdad to help the Iraqi government co-ordinate its campaign against the insurgents.
President Barack Obama - who is still considering an Iraqi request for US airstrikes - has said that about 275 military personnel could deploy to provide support and security for the US embassy and its staff in Baghdad.