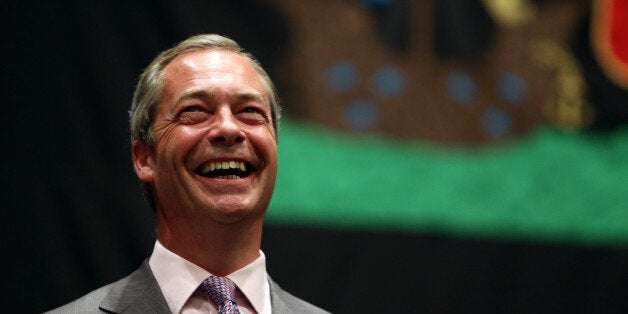 Ukip has formed a new grouping in the European Parliament, including an MEP elected as a member of France's far-right Front National – which Nigel Farage insisted would never happen.
The Ukip leader said the Europe of Freedom and Democracy (EFD) group would be the new "people's voice" in the European Parliament.
MEPs from seven countries, the minimum needed to be recognised, have joined the group, which is dominated by Farage's party and the Italian Five Star Movement established by comedian and activist Beppe Grillo.
Ukip's 24 MEPs are joined by 17 from Five Star, two from Lithuania's Order and Justice Party, two from the Sweden Democrats, one from the Czech Free Citizens' Party, one from the Latvian Union of Greens and Farmers and, from France, Joelle Bergeron.
Bergeron was elected as a member of Marine Le Pen's Front National in May but quit the party just days later, claiming "their philosophy is no longer mine" and sits as an independent in the European Parliament.
Le Pen has caused controversy in neighbouring countries by reaching out to parties who she sees as allies, with her "toxic" touch blamed for the defeat of other parties. FN surged to victory in the European elections in France last month in whatLe Pen called a "total rejection of the system", but she is now frantically searching for anti-EU groups from other member states with whom to form a parliamentary group.
Political parties only have one week left to form groups in the European Parliament. Eurosceptic parties gained 18% of the seats in the Parliament. But instead of teaming up, they split into three factions that refuse to work together.
Farage had consistently ruled out an alliance with France's far-right party in the new European parliament, saying there had been "endless speculation" about them cutting a deal but insisted: "That isn't going to happen."
He said: "We've got to find a group of people that we think are part of our political family with views that are consistent with classical liberal democracy."
Speaking about the new grouping, Farage said he was "very proud" to have formed a group that would "undertake to be the peoples' voice."
"We will be at the forefront working for the restoration of freedom, national democracy and prosperity across Europe.
"I am excited about working together with other delegations to be effective in exerting as much change as possible in Brussels while labouring at home to alert people to the harm that EU regulation does to the lives of ordinary people.
Expect us to fight the good fight to take back control of our countries' destinies.
"We have struggled against much political opposition to form this group and I am sure it will operate very well. Now it is formed I expect other delegations to join soon."
Five Star members decided in an online poll for the party's MEPs to join the EFD group.
Grillo said: "It is a great victory for direct democracy. For the first time in Europe, citizens chose their spokesperson and have told them where to stay in the European Parliament.
"Now we will start working in committees and we will have peoples' voice heard in the European Institutions, without intermediaries. This is great!"