The summer is finally here (hurrah!) and with the sun shining there's no better time to indulge in some tasty street food.
To get us in the mood, we spoke to founder of Yum Bun, Lisa Meyer, one of the traders who'll be hitting the streets of London this summer.
Yum Bun serves up steamed buns with a unique range of fillings including everything from slow-roasted pork to 'Nanban' chicken (a fusion of Japanese and Portuguese).
We caught up with her to find out more (and we even managed to nab a recipe).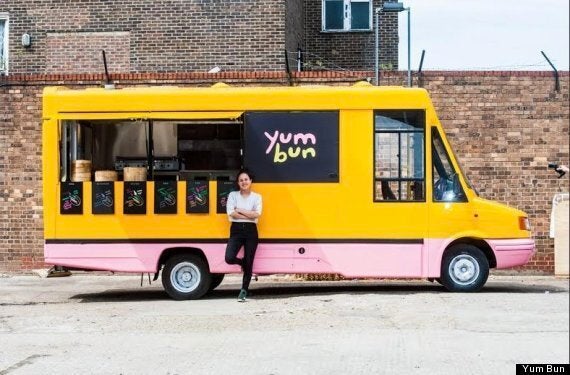 How did you get started as a street food trader?
My first day at market was in 2010, the same summer that a real appetite for street food began to take hold in London. It happened quite quickly - I felt I had a good idea and was excited to test it. I also wanted to be part of something local and be more anchored in my neighbourhood.
Broadway Market was around the corner and I applied for a spot in the schoolyard there on Saturdays. From inception to selling the first buns, took about three weeks.
Those weeks were filled with recipe testing, painting boards, buying kit - it was a really satisfying project.
I did imagine it could become something, but wasn't really thinking too far down the line at that stage.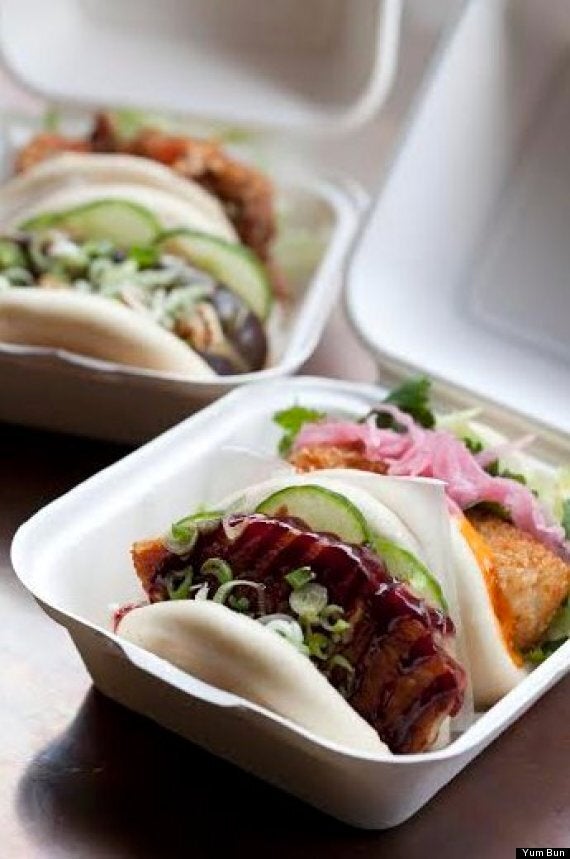 Describe an average working day.
Our days vary quite a bit - our food involves a lot of prep, and the day usually starts quite early, prepping meat, fish and vegetables.
The fun bit is trading, but there's a hell of a lot rigging and de-rigging involved. Throw in the uncertainty you face with the weather and it can be quite a tricky and exhausting job.
If we're at a night market such as Model Market, our work runs late into the evenings, but the social side of the job and working in a happy, bustling place means it doesn't always feel like work. We've done some great market days & festivals with Kerb, again it's the people around you that make this job fun and interesting.
What inspires you and the food you make?
The buns were inspired by David Chang's Momofuku cookbook. His style reflects a lot of what I love about Japanese food culture.
As much as there is clean precision and discipline in most things, Japanese cooking is often free and playful. I love their confidence to experiment with different traditions. Our 'Nanban' chicken bun is a version of Japanese and Portuguese fusion that has its roots 16th century Nagasaki.
My aunt Keiko is another chef who inspires me. She has an eye for the best ingredients and an acute attention to detail. She puts the fear of God in me when we cook together.
What has been your favourite venue/location to trade in? (and why?)
It's hard to say, great nights depend on the energy of the crowd, the weather, the setting. Street Feast do an amazing job of building pretty elaborate, semi-permanent spaces in interesting places. We've just taken over an old hair salon in their new spot at Lewisham's Model Market.
What sets you apart from other street food traders?
I guess our concept is quite clear, and our name spells it out. It's fast, tasty street food, but we do pay a lot of attention to quality and consistency. Our buns are made from scratch and we use the best ingredients we can.
What is your signature dish?
Our slowly-roasted Blythburgh belly pork steamed buns.
If you could give one tip to new street food start-ups, what would it be?
Work on a product and perfect it. It's not about assembling something tasty that you think will sell, but perfecting a skill and creating something different that people can't easily put together at home.
Yum Bun Recipe: Slowly roasted aromatic shoulder of lamb, & aubergine jam
Slow roasted lamb shoulder
1.2kg lamb shoulder, bone in
75 ml sweet soy sauce (Kecap Manis)
75 ml Chinese black soy sauce
75ml shaoxing wine or mirin
1 tbsp chilli bean paste (tobanjan)
2 tbsp cumin, roasted and lightly ground
1 tbsp dried chilli flakes
Finely sliced spring onion
In a food processor blend all the marinade ingredients. Slash the fat side of the lamb all over with a knife and rub in the marinade, cover and leave in the fridge overnight.
Heat the oven to 220 degrees.
Place the lamb and the marinade in a roasting tin and cover tightly with foil. Place in the hot oven and immediately turn down to 150 degrees and roast for 3 hours or so, until the meat is tender.
Remove the foil, baste meat in the cooking sauce and turn up to 180 degrees for 30 minutes for a stickier crust and a glossy sauce.
When ready to serve place on a warmed serving platter, shred lightly and drizzle with the sauce.
Serve with matchstick cucumbers, spring onions, sesame seeds, the aubergine jam and a steaming basket of buns.
1 tbsp tamarind or tamarind paste
2 tbsp Chinese black vinegar or malt vinegar
If using tamarind pulp with seeds, dissolve in hot water, strain out the seeds and use only the pulp.
Sprinkle the aubergine with salt and let stand for an hour till the water begins to seep out. Squeeze out the excess water.
In batches, fry the aubergine in a little hot oil and set aside.
In a saucepan gently fry the onions, cinnamon garlic and ginger, return the aubergine to the pan and add the, tamarind, sugar, vinegar stir well and cook for a further 5 minutes. Cool.
Yum Bun will join a host of other top street food traders at Model Market, the new event from the team behind Street Feast, launching this Friday 20th June, running every Friday and Saturday for 15 weekends.
Model Market launches 20th/21st June, running every Friday and Saturday from 6pm 'til 1am, for 15 weekends.
Free Entry before 7pm / £3 on the door after 7pm
Find out more online at streetfeastlondon.com
Yum Bun will open their first permanent shop in summer 2014.
Related