An annual Chinese dog meat festival kicked off earlier than usual this year – in an attempt to deflect attention from the media and animal rights protesters.
The event celebrates the summer solstice and saw residents in the southern city of Yulin begin gathering a week early.
According to tradition, the consumption of dog meat, lychees and alcohol ensures health throughout the winter months.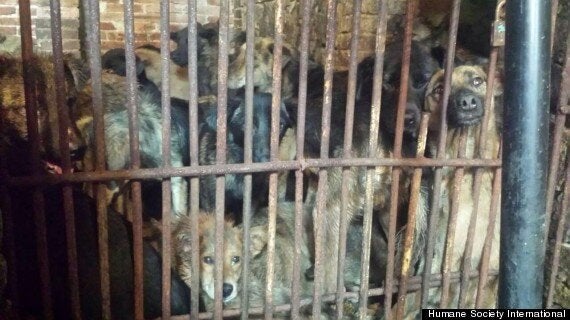 Around 10,000 dogs are to be slaughtered during the festival
Around 10,000 dogs are thought to have been slaughtered during last year's festival and estimates are similar for this year.
The animals are crammed into wire cages, piled onto trucks and sent on gruelling sometimes week-long journeys.
Many don't survive, succumbing to shock, starvation and dehydration. Those who do – often with broken bones – are dispatched to slaughterhouses as soon as they arrive.
They are then bludgeoned to death, drained of blood and thrown into a machine to remove their hair.
Then they are disembowelled and soaked in liquid to bloat their bodies – a measure taken to make them look fatter and command higher prices as many of the dogs are emaciated by the time they reach the slaughterhouses.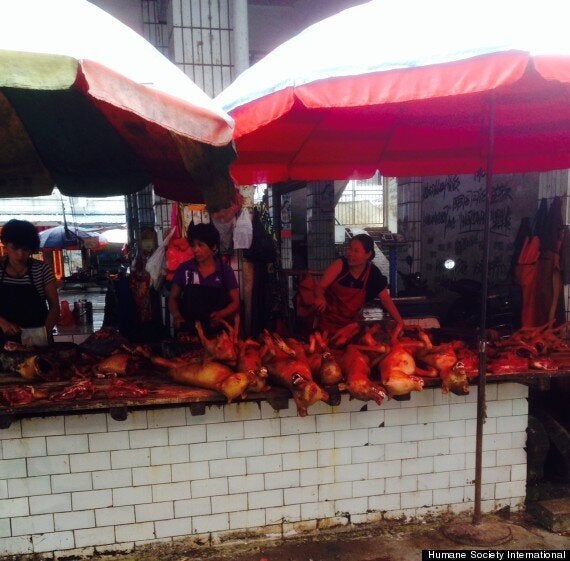 Dog meat is considered a delicacy in some parts of China
Animal rights activists say as well as being cruel, the event is a public health risk as there are no measures in place to ensure the dogs are disease free.
Deng Yidan, an activist with Animals Asia says the public backlash is hurting Yulin and China.
In comments reported by the Guardian, he said: "Negative coverage is growing – dog theft, criminal activities, food hygiene issues and rabies fears – not to mention the division in society between those for and against the festival – together these have brought significantly more negative publicity to Yulin than economic benefits."
This month a rally of more than 100,000 people gathered in Dalian city, with many brandishing Shut Down Yulin Dog Meat Festival banners.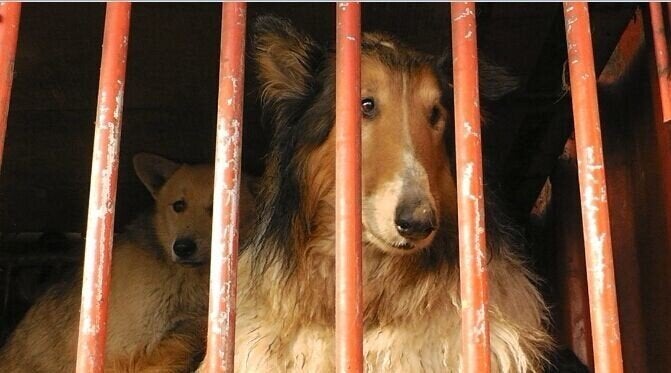 China's dog meat festival
He told Huffington Post UK via email: "For years there has been Western condemnation of the extreme deprivation and cruelty inherent in China's dog meat trade, but now the suffering is being condemned from within China itself.
"Old-fashioned attitudes of indifference towards animal suffering are being confronted by a younger population of better educated middle class who feel a moral responsibility and compassion towards animals and who are now expressing themselves through spontaneous acts of rescue, cruelty intervention and protest. This could be the crucial shift that sounds the death knell for dog meat.
"The Yulin festival is a gruesome and shocking place. To see any animal in suffering is distressing, but there is something truly heart-breaking about seeing man's best friend so bewildered and betrayed."
The Yulin government does not officially endorse the festival and the authorities have ordered restaurants and slaughterhouses to keep signs of the killings and meat out of sight.
The HSI claims to have seen breeds including Huskies and Samoyeds, some still wearing collars, indicating they may have been pets stolen from families.
Staff from the organisation managed to rescue four puppies from the cooking pots and have secured loving homes for them.
It said: "It is customary for people to eat a specific kind of food on a specific occasion. Slaughtering chicken and pigs for Spring Festival, eating turkey on Thanksgiving Day and slaughtering cows and sheep on Eide-Qurban are examples of some accepted customs.
"Eating dog meat is an old custom. We often apply modern standards to judge traditional customs and practices. Animal lovers, especially dog lovers, can stay away from dog meat, but they cannot force others to do the same."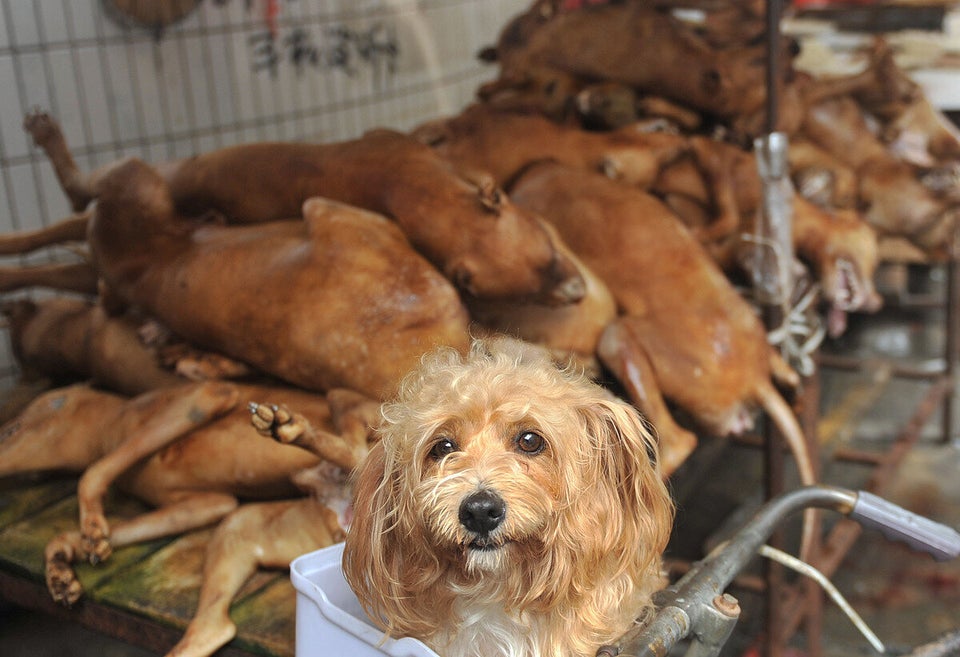 Dog meat festival 2013
Related