If EU leaders back Jean-Claude Juncker for the post of European Commission president this week it would be "flicking two fingers" at voters, Iain Duncan Smith has said.
The former Tory leader said the triumph of Eurosceptic parties at last month's European Parliament elections had sent a "seismic message" and accused heads of government of being "utterly complacent" about the situation.
Juncker is seen as an "arch federalist" who favours more, not less, integration between European states.
The move would mark a distinct break from the way that the commission president is usually chosen, with the nomination agreed by consensus between the leaders.
But the prime minister's decision to oppose Juncker's nomination looks set for failure, after nine centre-left leaders, including French president Francois Hollande and Italy's Matteo Renzi declared their support for Juncker - the candidate nominated for the presidency by the centre-right European People's Party (EPP). Iain Duncan Smith said Jean Claude Juncker's election would be 'sticking two fingers up' at voters
Duncan Smith, a prominent Eurosceptic within the cabinet, said: "I was talking to the prime minister the other day and he said there are a load of countries there who share his view on this, they think this is the wrong man, the Italians were saying it, many were saying it, even privately I understand many Germans say it."
The Work and Pensions Secretary said Juncker was "by no means a reformer" and backed the prime minister's stance, saying the EU needed to be "roughed up a bit about this".
He told BBC Radio 5 Live's Pienaar's Politics: "If they give Jean-Claude Juncker a job this is like literally flicking two fingers at the rest of Europe and saying to all the people out there 'we know that you voted the way you did but you are wrong and we are just going to show you how wrong you are by carrying on as though nothing happened'."
Duncan Smith indicated he would be prepared to vote against EU membership in the referendum promised by Mr Cameron in 2017, even if the Prime Minister recommended staying in after a renegotiation.
He said: "I have always been of the view that there needs to be major change within the European Union if Britain is to honestly think this is a viable enterprise for us. It's not right now, it's heading in the wrong direction."
On his own position he said "at the end of the day every elected MP has a free vote, they have to take the decision of their conscience" and added: "When it's something as big as this you have to vote for what you think is best for your country.
"But I will help, support and assist the Prime Minister in getting the best deal and then I will make a view on that when it comes back."
If Juncker got the job of European Commission president there would still be the possibility of reform if EU leaders were committed to it, but if they did not follow that course it would be "very bleak" for Britain's chances of remaining within the EU, he said.
"At the end of the day Jean-Claude Juncker wields a certain amount of power, but nothing like as much still as the governments of Europe," Duncan Smith added.
"So the key question really is are these governments of Europe prepared, regardless now who becomes president, to actually say this place needs dramatic change and reform - decentralisation, much more power going back to nation states again."
"Are they going to do that? If they don't do that then it does make the prospect for Britain being in Europe very bleak indeed."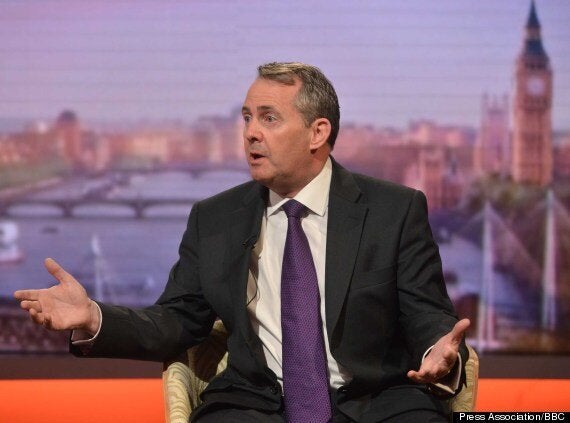 Liam Fox told Andrew Marr Cameron should 'fight a battle' to stop Juncker
Cameron will spell out his concerns to European Council president Herman Van Rompuy in No 10 tomorrow, ahead of a two-day meeting of leaders on Thursday and Friday.
Tory former defence secretary Liam Fox said that if Cameron did not "fight a battle and take a bloody nose" over Juncker's candidacy it would put the EU "on the juggernaut route" to ever closer union.
He told BBC One's Andrew Marr Show: "The Juncker agenda is wrong for the people of Europe, including the people of Britain, and the British Prime Minister is right to stand up against it."
The news comes after an opinion poll showed that almost half of Britons would vote to leave the EU under the current membership terms.
The Observer/Opinium poll found that 48% of people would "definitely" or "probably" vote to leave the EU, while 37% said they would definitely or probably vote to stay in.
Popular in the Community