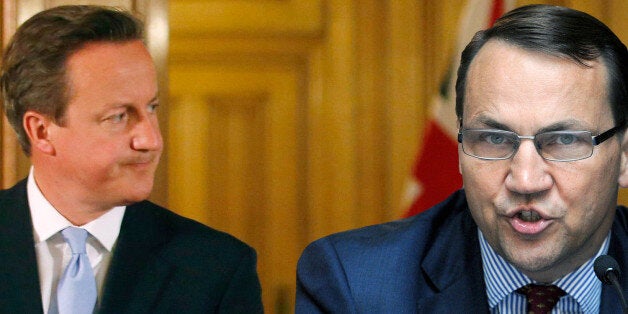 David Cameron has "fucked up" his handling the European Union and has fallen for the "stupid propaganda" of eurosceptics, Polish ministers have been recorded as saying.
The country's foreign minister Radoslaw Sikorski - who was, like Cameron, a member of the infamous Bullingdon Club while a student at Oxford, has been recorded speaking with former Polish finance minister Radoslaw Rostowski, saying Cameron suffers from "a kind of incompetence in European affairs".
"It's either a very badly thought through move, or, not for the first time, a kind of incompetence in European affairs. Remember? He fucked up the fiscal pact. He fucked it up," he is quoted as saying in a transcript of a leaked conversation printed today in Polish magazine Wropst.
"Simple as that. He is not interested, he does not get it, he believes in the stupid propaganda, he stupidly tries to play the system."
In another conversation, the spokesman for Polish PM Donald Tusk claims Tusk "fucked (Cameron) up good" in a conversation about UK plans to curb EU migrants' access to benefits.
The Guardian reported Sikorski also lays into Cameron for not standing up to eurosceptics such as Ukip, saying: "You know, his whole strategy of feeding them scraps in order to satisfy them is just as I predicted, turning against him; he should have said, fuck off.
"But he ceded the field to those that are now embarrassing him."
In the same conversation, Rostowski was quoted as saying Poland would only accept Cameron's renegotiated terms of Britain's EU membership "in return for a mountain of gold".
He also says Britain leaving the EU would be "generally bad" for Poland.
The Huffington Post UK requested comment from Downing Street but had received no reply as this story went live.
It follows a "full and frank" meeting with EU Council President Herman Van Rompuy on the issue.
A No 10 spokesman told the BBC: "The prime minister asked President Van Rompuy to prepare the European Council for a vote on Mr Juncker's nomination, should the European Council choose to depart from a consensus-led approach when it meets this week. President Van Rompuy agreed to work through how a vote would proceed."
Popular in the Community