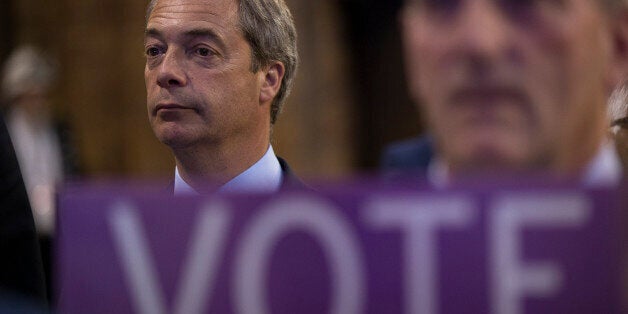 Voters should be given the right to stop Britain going to war and put a halt to major controversial projects such as HS2, Nigel Farage has said.
Ukip is pushing for a system of "direct democracy" that would mean a referendum could be triggered by 5% of the population - around 2.3 million people.
The party leader admitted that the power could be abused by lobbying groups but insisted it would help to restore the public's faith in government.
At a speech in central London, he said voters felt betrayed by the current democratic system and outlined a series of measures to counter the problem, including introducing tougher measures than those planned by the Coalition on allowing voters to kick out their local MP.
Farage also raised the prospect of cutting off public funding for major charities, such as Oxfam and Help the Aged, arguing it was wrong that the government should be giving cash to organisations that lobby it.
The referendum powers would be more likely to be used to stop government doing things, including taking military action or introducing unpopular infrastructure projects such as the high speed rail link between London and the north, than to make it introduce new measures, he said.
Farage told the Institute for Government: "I suspect one issue on which the British public has felt very strongly over the last decade or more is the whole question of foreign military interventions, an endless series of them, most of which it seems to me have made the world a far less safe place than it was before.
"I suspect if we had the ability through direct democracy to hold our governments to account, we would not have bombed Libya or even considered getting heavily involved in Syria."
Farage said he would like to see a system similar to one operated in Switzerland that allows voters to trigger a poll. That saw voters in the country back a referendum proposal to ban the building of minarets by 57%.
The Ukip leader denied that his proposals would be used to introduce controversial measures, such as the death penalty, in Britain.
He added: "I accept that there are some risks with direct democracy but I think there is a greater risk and that is what we are currently living through, which is a complete breakdown of faith and trust in our democratic model."
Farage said the Coalition's plan to introduce the power of recall lets voters down because it involves MPs deciding first if an individual has engaged in ''serious wrongdoing'' unless they have received a criminal conviction.
He raised the case of disgraced Mike Hancock who was forced to apologise in the High Court to a vulnerable woman constituent for an "inappropriate" friendship.
"I think there is an example where something has gone quite badly wrong and I think in that constituency I really do think a by-election would be called."
He said that while his party will not be in government after the next election Ukip could influence the manifestos of the major parties.
Farage said organisations such as Oxfam, Greenpeace, War On Want, Help The Aged and the RSPB, and government were too close.
"I'm not for one moment suggesting that we close down Oxfam, or anything like that, but I do think that given the influence these organisations have over public opinion it is a fairly bizarre state of affairs to have the government effectively funding the organisations that lobby and I think that relationship is much too close."
Popular in the Community