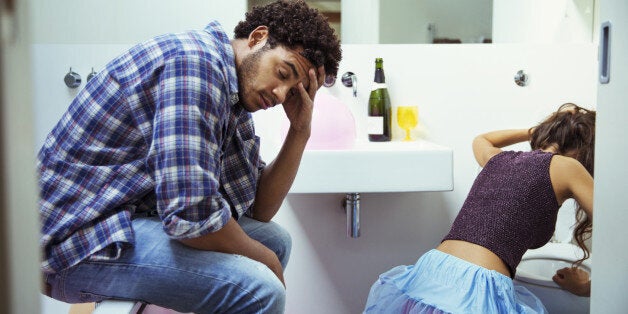 Drunkorexia. You may roll your eyes at the latest "orexia" to hit the headlines, but it's an illness which is begging to be taken seriously - and one which is ruining lives.
In 2011, The Huffington Post UK reported on the growing culture of university students skipping meals to cut down on calories so they can binge drink at night. Research carried out by a US university found as many as one in five were succumbing to the worrying habit.
University of Central Lancashire student Laura* suffered from drunkorexia. She developed anorexia four years ago and the illness soon morphed into something new; she starved herself during the day and only consumed calories through drinking. Even then, she swapped wine, lager and cocktails for vodka and soda as the latter contained less calories.
Now, aged 22, Laura is facing up to her problems and getting better. However, she says she still curbs her food intake to under 1,000 calories if she knows she has a heavy night of drinking ahead.
"Overcoming a eating disorder when, like me, you still enjoy a drink and going out is extremely hard because you continuously punish yourself for having a good time," she explains. "It is worse because after a few, once you have loosened up, you forget about the anxieties and often have a good night, however the next morning you are bombarded with guilt and feel horrendous.
"In fact this causes you to starve yourself the next day to 'make up' for the extra calories consumed the previous night, which is not ideal because your body is craving the nutrition to replenish your body after the effects of a heavy night out."
And the condition is difficult to spot. As HuffPost UK blogger Carrie Armstrong writes: "The fact that parents aren't seeing it [is] a legitimate problem. [There is a] lack of external physical bodily symptoms.. whilst a girl using drunkorexia as a dieting technique will lose weight, the bloating caused by alcohol abuse will negate any outward appearance of actual weight loss."
Laura only realised the extent of her condition following dramatic weight loss during a gap year in France.
"My parents flew out to visit me for my 19th birthday and upon arrival my dad starting crying on seeing the dramatic weight loss which incurred whilst I was out there.
"Being away from friends and family was easy to conceal my anorexia and it was in this environment where heavy drinking was a daily occurrence [where I] ate barely anything because I was busy all day, and drank beer instead of food during the night."
At one point, Laura's weight dropped to below six stone.
After her parents left, Laura tried to eat more and did put on some weight but says she "struggled mentally to convince myself that doing this was a progressive step forward and not 'making myself fat'".
"I was still severely underweight and because I concealed it from my work colleagues I did not feel it was something I could talk about thus felt quite alone."
Going to university, however, only made matters worse; being in a new environment, away from home, meant Laura could easily conceal her eating habits.
"Because it was freshers I was participating in lot's of heavy drinking and I felt myself quickly slipping back into my old ways," she says. "I was aware of support channels but in the beginning I didn't want to use them as although the disorder made me miserable I was happy with figure.
"Even during the counselling sessions I did get, I never spoke about my drinking habits and the fact I reduce food intake to justify drinking as I was scared they would latch on and challenge my drinking behaviour instead of my eating disorder."
Worryingly, Laura didn't realise her drinking combined with her eating disorder was a real problem; "I had never heard of the term drunkorexia before but when I read an article about it it made perfect sense."
However, after meeting her boyfriend and opening up about her issues, she finally got the help she needed.
"Living together means cooking meals and eating together made me challenge and face my demons and I did it for him because I know how it previously affected my family and I didn't want him to go through the same suffering they did."
Even though Laura may have put the worst behind her, she says the disorder has had a long-lasting effect on her life. "It has taken away a carefree quality to life that I once had; when it comes to eating and/or drinking in any form every element is analysed in a desperate bid to justify my actions.
"I struggle to go out for meals or order a takeaway. I live a life of guilt and rationalisation for silly things like having a digestive with morning brew. Happiness is often swiftly followed by punishment and although I have come a long way on the road to recovery these thoughts continue to affect me on a daily basis.
"I don't think anyone is truly aware of what a long process this is, the smallest step in the right direction feels like reaching the top of Everest, then looking up and realising there is a bigger mountain to climb. It is exhausting and draining.
"I don't want to think about the hours I have spent crying because I am worn out and fed up of this constant battle between the negative anorexic voice that resides somewhere dark within me and the rationale that I knows what I am doing is ridiculous.
"Hence sometimes drinking is nice, it's an escapism, and at the end of the day, if it means cutting down that days food intake, so be it.
"Drinking, although a dangerous attitude to take, also helps alleviate the pressures and anxieties that comes with an eating disorder and helps you forget even just for a few hours."
*Laura's name has been changed to protect her identity.
Useful websites and helplines:

Beat, call 0845 634 7650 or email fyp@b-eat.co.uk

Samaritans, open 24 hours a day, on 08457 90 90 90

Mind, open Monday to Friday, 9am-6pm on 0300 123 3393

Students Against Depression, a website by students, for students.

HopeLine runs a confidential advice helpline if you are a young person at risk of suicide or are worried about a young person at risk of suicide. Mon-Fri 10-5pm and 7pm-10pm. Weekends 2pm-5pm on 0800 068 41 41

Student Minds To join the community or launch a student group contact the charity on hello@studentminds.org.uk