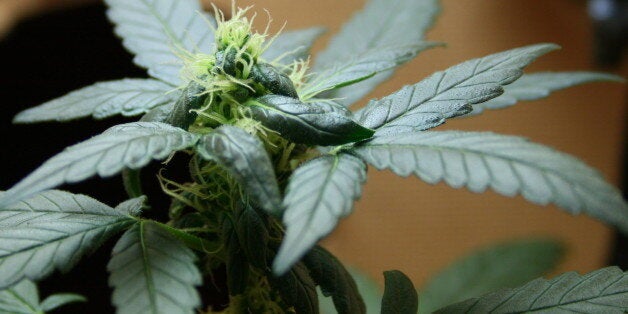 Scratch and sniff cards loaded with the smell of cannabis are being handed out in 17 police forces across England and Wales.
The idea is to educate the public about what the plants smell like so they can alert police to dope farms in their area.
National Police Lead for Cannabis, Chief Superintendent Bill Jephson said: "Those who commercially cultivate cannabis are serious and organised criminals often involved in other criminal ventures.
Houses in residential areas are used to produce the cannabis, which brings violent offenders into the heart of our communities and leads to a real risk of fire and flood.
"Ordinary people who come forward and share their concerns will be our best source of information. The campaign explains the tell-tale signs that a cannabis farm exists and how people can ensure the information they have gets to the police in confidence. I would urge everyone to act as our eyes and ears or, in this case, our noses to sniff out the criminals."
Today's campaign, targeting cannabis growing hotspots, is the second phase in a publicity drive that was launched last spring.
According to figures from the UK Human Trafficking Centre, in 2012 around a fifth of human trafficking victims thought to have been criminally exploited were forced to get involved in growing cannabis. Most of those, 81%, were children.
Last summer, energy watchdog OFGEM revealed that a third of all costs relating to energy theft were as a result of cannabis farms.
Founder and Chairman of Crimestoppers, Lord Ashcroft KCMG PC, said: "The campaign run by Crimestoppers last year highlighted just how much people care about removing cannabis farms from their community.
"Quite often, those running cannabis cultivation operations are also involved in other serious and organised crime, such as human trafficking and possession of weapons."
Forces taking part in the campaign today include Greater Manchester Police and Hampshire Constabulary.
Detective Superintendent Kath Barnes, from Hampshire Police, said: "Cannabis is often seen as harmless and somehow acceptable. This is just not the case. It's harmful to use and many people including children, across the world, are exploited in furtherance of the cannabis trade."
As well as giving the public a whiff of the drug, the campaign highlights telltale signs that a house or flat is being used as a cannabis farm, including constantly covered windows and strong lighting always being on.
There may be visitors at anti-social hours, high levels of heat and condensation, the buzz of ventilators and lots of cables.
Related