A Tory councillor has been slammed after she labelled some food bank users "selfish", claiming they spend money of booze and drugs instead of feeding their children.
Coun Julia Lepoidevin, Coventry Council's shadow cabinet member for children's services, spoke during a debate on food banks during a full council meeting, the Coventry Telegraph reported.
While admitting there was some "genuine need" Lepoidevin said she doubted councilors "never have cases where families make a conscious decision not to pay their rent, their utilities or to provide food for their children because they choose alcohol, drugs and their own selfish needs?"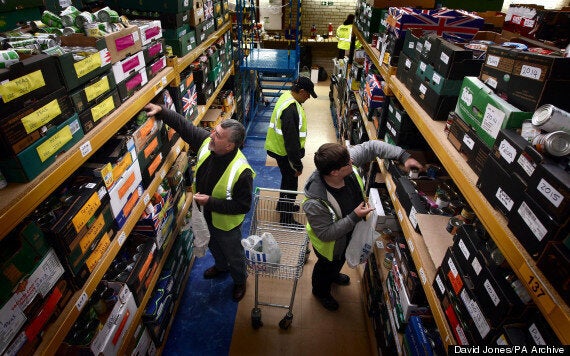 A Tory councillor has been slammed after she labelled some food bank users "selfish"
Labour councillors heckled as she spoke, but Lepoidevin continued: "There are families that have enough income and make a choice. It might be a shame but it is true and those very families that I describe are the very families that will not engage with our services early and our services then have to pick up the problems through social care.
"This is why we need to know the impact lifestyle choices are having on our children. Until we know that we are never going to know the proper picture."
Lepoidevin told HuffPost UK after the meeting was reported that she regretted her choice of phrasing. "Let me say that I think that food banks themselves are doing a brilliant job and there was no criticism intended of them. But from a social care perspective, I was trying to say that we need to talk about this issue as well.
"We have to talk about family responsibility, we all know as councillors that there are some awful things that go on, and the Labour councillors have twisted my words. Nobody seems to want to talk about the issues."
Damian Gannon, the Labour councillor in charge of finance, responded by saying: "Councillor Lepoidevin's comments were, quite frankly, reprehensible.
"Those in poverty aren't feckless, they aren't alcoholics or drug users, they aren't looking for an easy life on benefits – they are hard working people, low income families who are looking to do the best they can for themselves and their families and that's a fact."
Gavin Kibble, operations director at Coventry Foodbank, told the local paper: "People come to us because they are referred to us by third party agencies. One of those agencies is the agency for people recovering from addiction to drugs and alcohol. But you can't do the drink and drugs and just turn up. People are signposted to us through agencies.
"We have people referred to us from domestic violence agencies, children's services, debt issues. Are we going to stigmatise every part of society and question every decision they have made before deciding if we help them? We are going down a very dangerous road. Where do we stop?"
According to the Trussell Trust, more than 500,000 people, many children, have required emergency food from the charity, which runs 400 banks, since April.
Alison Inglis-Jones, a trustee of the Trussell Trust, said the councillor's comments were "disappointing" and invited her to visit a local food bank.
"From our experience, these are just not the kind of families we are seeing," she told HuffPost UK. "Food banks are the last resort for people, it's not about getting something for free when you've spent all your money on other things. We hav ea very stringent voucher system in place, people have to be referred to food banks by other agencies."
Having refused to meet the leaders of the Trussell Trust, the Work and Pensions Secretary denied claims that the controversial benefit reforms imposed by his government were responsible for the soaring number of people who rely weekly on emergency supplies delivered by food banks.
Freud, a Work and Pensions minister, prompted loud jeers from the Opposition benches when he insisted that the food banks were not considered part of the welfare system.
Popular in the Community