 The Guildford Four's Gerry Conlon has departed victorious from a life that dealt him a poor hand, the lawyer who campaigned for his freedom told mourners at his funeral.
In a heartfelt tribute to the one of the quartet wrongly imprisoned for the 1974 IRA pub bombings in the Surrey town, Gareth Peirce referred to the image of him emerging from the Old Bailey in London 15 years later and declaring his innocence after his conviction was quashed.
"This was a victorious human being who had defeated a mighty foe," she told hundreds who gathered to pay their respects inside St Peter's Cathedral in Mr Conlon's native west Belfast.
The 60-year-old died last week only three weeks after he was diagnosed with lung cancer.
Paddy Hill, who was one of six men wrongly convicted of IRA bombings in Birmingham, also in 1974, was among those who helped carry the coffin at his morning's emotional funeral service.
Mr Conlon and the rest of the Guildford Four were handed life sentences for the attacks in Guilford which killed five people and injured 65, before their convictions were overturned in 1989.
At the time of their sentencing, the trial judge Mr Justice Donaldson told them: "If hanging were still an option, you would have been executed."
It was one of the best known cases of a miscarriage of justice in British legal history.
Mr Conlon's father Giuseppe, who was also jailed as part of a discredited investigation into a supposed bomb making family - the Maguire Seven - died in prison.
His mother Sarah, a tireless campaigner for their freedom, died in 2008, aged 82.
Mr Conlon was played by Daniel Day-Lewis in the 1993 film In The Name Of The Father.
Mrs Peirce, who was played by Emma Thompson in the same film, told mourners of Mr Conlon's struggles with life in the years after his release, living like a recluse in England and developing a drug habit.
But she said he overcame those difficulties and returned to Belfast to be with his mother in the year before she died.
"Life dealt Gerry a pretty poor hand," she said.
"He was gambler and gambling was in his DNA but with a poor hand he made a magnificent fist of it.
"If anyone thinks that this is someone who was beaten or terrified and pushed down forever, that wasn't so."
She added: "We can say with all the adversities, in the end Gerry Conlon won - the victory was his."
In his homily, Father Ciaran Dallat said Mr Conlon always carried a burden of guilt, feeling he was responsible for the death of his dad in prison.
"In the master's house, the place that Jesus has prepared in heaven, we trust that Giuseppe and Sarah are there and he will truly be at peace at last because Giuseppe will reassure him, as his mother tried so often, that it wasn't his fault - it wasn't his fault, other people got it wrong." Gerry Conlon leaves the House of Commons
Irish deputy prime minister Tanaiste Eamon Gilmore was among a number of dignitaries at the funeral. Sinn Fein West Belfast MP Paul Maskey was also there, as was SDLP leader Dr Alasdair McDonnell and the party's Foyle MP Mark H Durkan.
Co Londonderry man Brian Shivers, whose conviction for the 2009 dissident republican murders of two British soldiers in Antrim was overturned last year, attended as well.
The cystic fibrosis sufferer carried the coffin of a man who had tried to raise awareness of his medical needs while in prison for the soldiers' murders.
Mr Conlon died at his home in the Falls Road area of Belfast last Saturday.
Along with the other members of the Guildford Four - Paddy Armstrong, Paul Hill and Carole Richardson - he was jailed for life in 1975 for the attack on the Horse and Groom pub in the Surrey town which killed four soldiers and a civilian.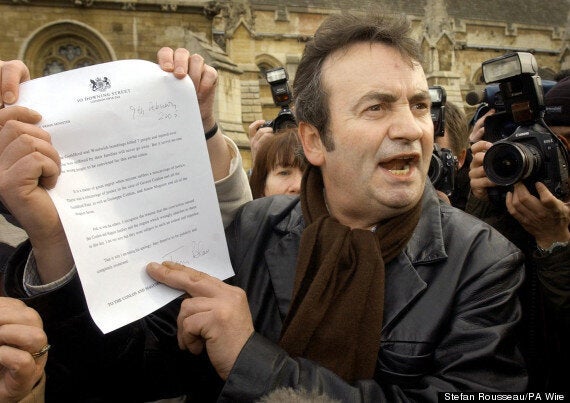 Gerry Conlon outside the House of Commons in 2005 showing the media the letter of apology he received from Prime Minister Tony Blair for him being wrongly convicted of the Guildford pub bombings.
They were freed in October 1989 after the Court of Appeal quashed their sentences amid doubts raised about the police evidence against them.
An investigation by Avon and Somerset Police found serious flaws in the way Surrey Police handled the case.
As he emerged free from the Court of Appeal, Gerry Conlon famously declared: "I have been in prison for something I did not do. I am totally innocent."
In July 2000, then-prime minister Tony Blair became the first senior politician to apologise to the Guildford Four.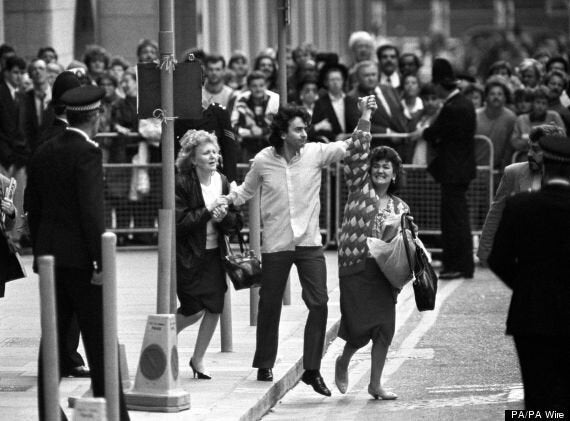 Gerry Conlon outside the Old Bailey in 1989 after being released for being wrongly convicted of the Guilford pub bombings, the Guilford 14.
Mrs Peirce repeatedly referred to the picture of Mr Conlon leaving the Old Bailey in her 20-minute tribute.
"When he angrily, angrily stated the truth it had an extraordinary effect and made the world understand that innocent men and women had been buried alive in English prisons year after year and it had been allowed, indeed it had been organised to happen, it was no accident," she said.
"So when he shouted out 'I am an innocent man, my father was innocent, the Maguires are innocent and the Birmingham Six', he set something in motion that forced the rest of us, the rest of the world, Britain, to hold a mirror up to ourselves and see precisely who we were and what we had done."
Mr Conlon, who is survived by his partner Alison and daughter Sarah and other family members, including his sister Anne, was taken for burial at Milltown cemetery after this morning's Requiem Mass.
Popular in the Community