Sprinter Oscar Pistorius did not have a mental disorder when he killed his girlfriend Reeva Steenkamp, according to a psychological report released today as his trial resumed in Pretoria.
An evaluation into the double-amputee's mental health has been undertaken for the past 30 days, causing a halt to his murder trial. His defence team had claimed the athlete suffered from anxiety attacks. Pistorius admits shooting his model girlfriend while in a state of panic on Valentine's Day 2013, but claims he thought she was an intruder.
"Mr Pistorus did not suffer from a mental illness or any defect that would have rendered him criminally not responsible for the offence charged," said state prosecutor Gerrie Nel, reading from the psychologist report.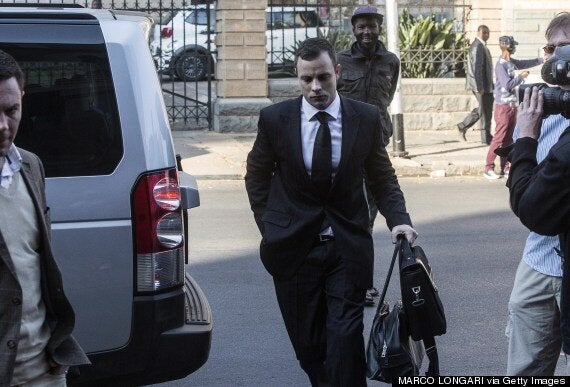 South African Paralympian Oscar Pistorius (C) arrives in Court in Pretoria
Judge Thokozile Masipa had ordered the 27-year-old to undergo the month-long assessment at Weskoppies psychiatric hospital in Pretoria.
The psychiatrists would "inquire into whether the accused by reason of mental illness or mental defect was at the time of the commission of the offence criminally responsible for the offence as charged", Judge Masipa said.
One of the four mental health experts assigned to the assessment was taken to hospital last Thursday suffering from a suspected heart attack.
She added: "There is no doubt that children who have bilateral amputations at the age of 11 months find that very stressful … It's a factor that contributed to the development of GAD."
Dr Vorster said the condition could leave him "hypervigilant" and said it would have been worsened by the fact he grew up with an absent father and the death of his mother when he was 14.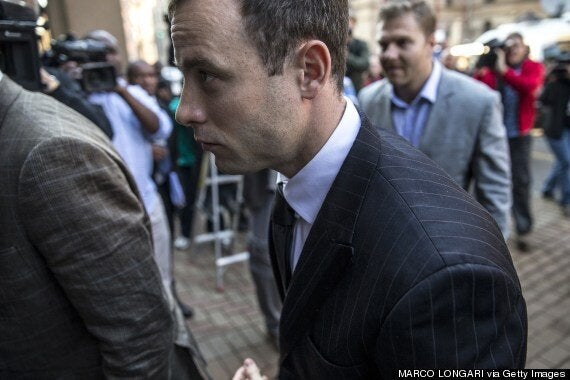 After a six-week break, the murder trial that has gripped South Africa and the world resumes on June 30
Pistorius' mother used to sleep with a firearm beneath her pillow and had an irrational fear of intruders, the court heard on Tuesday.
The trial also heard how, growing up, Pistorius slept with the door locked and was anxious about the safety of his siblings when he travelled.
Nel has challenged a psychiatrist's assessment that Pistorius suffered from anxiety, pointing out his lack of concern over a broken window which had left unattended for a few days.
The defence is expected to finish presenting evidence in the next few days. The first day of the resumed trial began with evidence from Dr Gerry Versfeld, who amputated Pistorius' legs, on the impact of the disability on the athlete and what actions he was capable of, without his legs.