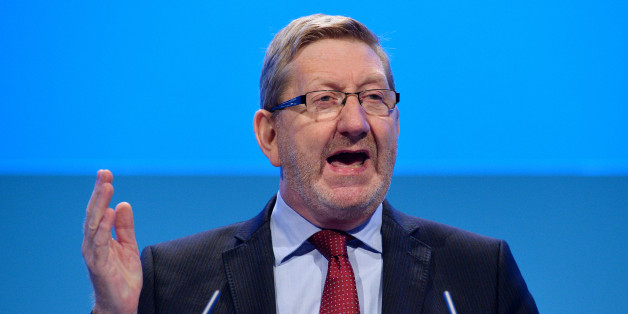 BEN STANSALL via Getty Images
Labour's biggest union affiliate has urged the party to reconsider its position on a European Union referendum or risk being "boxed in" at the general election.
Unite said denying people a chance to vote on Britain's membership of the EU would be an "electoral millstone" for Labour next May.
Labour has said it will only have a referendum if more powers are transferred from Westminster to Brussels during the next Parliament.
In contrast, the Conservatives have pledged to renegotiate the terms of Britain's membership if it wins a majority next year, and hold a referendum in 2017.
Len McCluskey, general secretary of Unite, told the union's national conference in Liverpool that staying silent on the EU left the field open for Ukip and others to "exploit" people's concerns to win votes.
He said Unite believed that the advantages of EU membership outweighed the disadvantages, especially in terms of social protections and supporting manufacturing investment.
McCluskey said: "This issue has bedevilled British politics for decades. For much of that time it has been the Tories who have had to deal with divisions in their ranks over Europe.
"But the next general election will be different. Both Ukip and the Tories will be offering a referendum on the issue of Britain's membership. As things stand, Labour won't, because ducking this question is seen as part of Labour's commitment to business.
"That is a vast hostage to fortune. I would not like to be Ed Miliband explaining why he is not joining other parties in offering the British people a vote on something that is clearly a growing source of public concern.
"It is time that Labour's leadership took a new look at the referendum question. We do not seek a referendum to take Britain out of the EU, we seek a referendum rethink in order to help Labour into power.
"Without such a pledge, our party will stand exposed, Ukip will be strengthened in some key constituencies and the Tories will hypocritically charge Labour with being anti-democratic. In a tight election, this can make the difference."
McCluskey said denying a referendum would suggest that Labour was part of a "political elite" that did not trust the electorate.
Delegates at the conference approved a statement from Unite's executive urging Labour to "urgently reconsider" its approach to a referendum, and making it clear that the union would argue for a vote for Britain to stay in the EU.
A source close to Miliband said Unite were "entitled to their opinion" but said Labour's position was in the best interest of the country.