Shia LaBeouf is receiving treatment for alcohol addiction, his rep has confirmed.
However, Shia hasn't checked into rehab as suggested by previous reports, instead he is voluntarily seeking help.
Shia in a ripped t-shirt at a police station following his arrest
The 'Transformers' actor hit headlines last week when he reportedly chased a homeless man around NYC's Times Square, just hours before being arrested for disorderly conduct during a Broadway performance of 'Cabaret'.
His rep has now released a statement confirming that Shia is addressing his health issues.
"He understands that these recent actions are a symptom of a larger health problem and he has taken the first of many necessary steps towards recovery," the statement published on CNN reads. "Contrary to previous erroneous reports, Shia LaBeouf has not checked into a rehabilitation facility but he is voluntarily receiving treatment for alcohol addiction."
Shia was seen being led out of the Studio 54 theatre by police on Wednesday 25 June.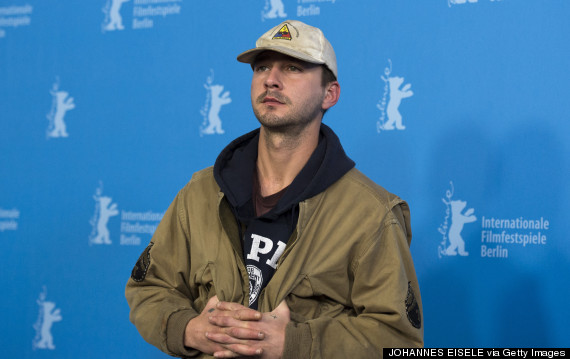 Shia LeBeouf
According to Variety, the police were called when the actor refused to listen to security staff, who asked him to leave the venue.
He was later charged with two counts of disorderly conduct and one charge of criminal trespassing. NYPD spokesman George Tsourovakas said: "He was being rather difficult and combative, verbally ... to the point where security guards asked him to please leave the premises and he refused.
"Police were called and he was detained and arrested."
Earlier this week, Shia was seen clutching an Alcoholics Anonymous book while out and about in LA.
This isn't the first time that Shia's erratic behaviour has made the headlines, as earlier this year he arrived at the premiere of his film 'Nymphomaniac' sporting a bag over his head with the message "I am not famous anymore" scrawled on it.
He also found himself at the centre of a plagiarism scandal when it was alleged that he stole ideas for a short film from another writer's novella.