Playing tennis can strengthen the bone in your racquet arm by up to 63%, a study has shown.
But, to get the greatest benefit, it pays to be male and to start young, according to the research.
Scientists working with the Lawn Tennis Association carried out tests on 138 elite tennis players aged 10 to 90.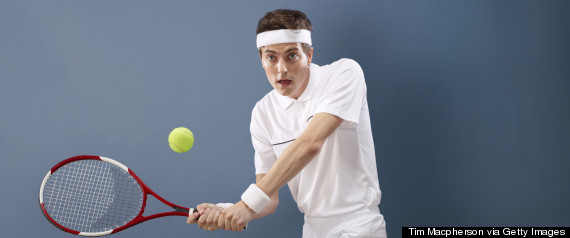 They found that the bone in the upper part of the arm young players used to hold their racquet was on average 40% bigger than the opposite arm bone. In some cases, the difference was as much as 63%.
Players who took up the game as adults, when bones stop growing, were much less affected than those who had played from a young age.
Older women players also derived less benefit than their male counterparts.
SEE ALSO: What Does A Wimbledon Champion's Diet Consist Of?
Lead researcher Alex Ireland, from Manchester Metropolitan University, said: "Serving and playing strokes seems to produce large twisting forces which stress the bones. So they adapt to these forces by growing larger.
"One area of bone which really benefited from tennis was the wrist, which is a really common site for fracture, especially when you're older. Tennis allows you to strength this vulnerable area.
"Humans probably lose about 15-20% bone mass in their arms between the ages of 20 to 90, which the growth from playing tennis could counteract."
Some small differences between arms are seen in non-athletes because people tend to favour one arm over the other when writing or carrying a bag, for example. But the differences in tennis players are about 10 times greater than in non-players, said the researchers.
Study participants had cross-sectional computer tomography (CT) scans taken of their upper and lower arms.
The tests took place at the LTA British Open Veterans Indoor Championship, the British Open Veterans Clay Court Championship, and the LTA British Junior Championship.