Borrow My Doggy offers a brilliant service where you can co-opt another person's dog for a few hours. It's genius - like being an aunt or an uncle but without the whining, poop issues and destroyed interiors.
However, this isn't some sort of rent-a-dog scheme where you can cuddle a Bichon Frise one day and a Boxer the next. Borrow My Doggy is about commitment, or rather, as co-founder Rikke Rosenlund, community.
Talking about the idea for the company, she said: "One day I borrowed a Labrador named Aston and I took her for a walk in the park. It was so wonderful and I thought, why are people paying other people to walk their dogs or put them in kennels when it's not good for them, when I would love to look after their dogs for free? Shortly after I met Les Cochrane – my co-founder – he use to volunteer at the RSPCA – he's a dog lover."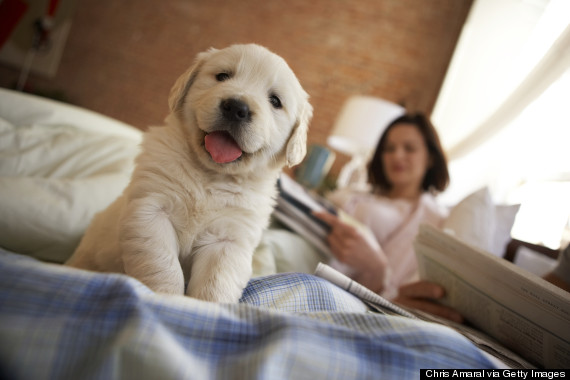 When Rikke and Les set up the first version of the site, they had 85 people sign up in three days.
"We didn't realise the number of people who actually need a hand – the owners are people who are really busy, and we also have a lot of people who are going through life-changing circumstances, whether it's illness, having a baby or the couple who own the dog have divorced."
SEE ALSO:

Stressed Parents: Why Are Women More Anxious Than Men?

Anxiety Sufferers Are Seen As 'Lazy And Self-Indulgent'. Here's What They Had To Say About It
So why would you want to borrow a dog? Perhaps you might have kids begging for a pet (but you don't trust them with the commitment), while others may be trialling whether not spending time with animals eases their loneliness or depression.
With overwhelming evidence that pets help with depression - and more recently dogs have been commandeered to help cancer patients who may be struggling with anxiety and stress - Borrow My Doggy seems to offer the best kind of therapy.
"A dog is a very big commitment," says Rikke, "and it wouldn't be fair for me to have one, for instance, because it would be home alone a lot and that's not right. Some people who come from Australia and New Zealand really miss their dogs and might feel the need to use the service."
So how does the service work?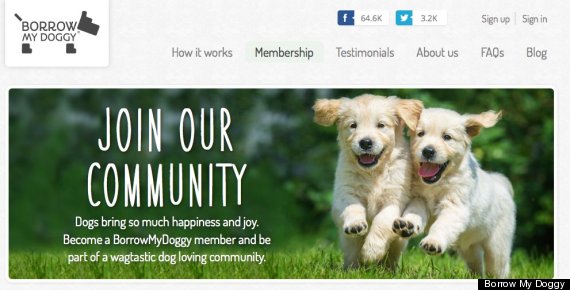 Owners set up a profile with their dog's photograph and pay an annual fee of £34.99. Borrowers can then peruse various profiles after posting their own profile for £7.99 a year. Both have access to a 24/7 vet helpline in case things go awry.
"You can do anything from occasional walks to holidays to regular schedules. We arrange for a meet and greet and match people locally - BMD is all about neighbourhood and getting to know your community. You meet locally in a place the dog is really used to, go for a walk and see how you get along. It's NOT about handing over a dog who will get stressed."
Any tips to make it all go smoothly?
"It's about the dog getting to know someone else. We're working with a vet now on how to meet a dog the first time. No dog should be left alone until everyone is comfortable. There will always be surprises – the owner told me she likes to jump on the bed and I found her on the couch. We have one family with a five-year-old son begging to get a dog and we paired him up with a BMD, and now the two families have become friends."