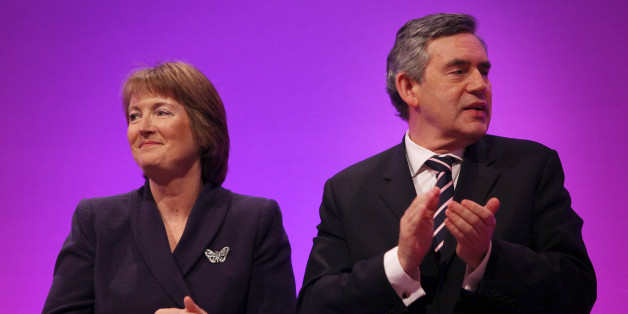 Oli Scarff via Getty Images
Labour's deputy leader Harriet Harman has launched a scathing attack on former prime minister Gordon Brown, accusing him of denying her the job of deputy prime minister simply because she is a woman.
The Evening Standard reports that in a speech in parliament on Tuesday evening, Harman will hit out at sexism in Westminster. She is expected to target David Cameron for tricking the public with a "deliberate misrepresentation" of the number of women in the Tory party.
However it is her criticism of the former Labour prime minister that is most striking. Harman, Ed Miliband's deputy, was elected to the number two spot in the party in 2007 while Brown was Labour leader.
"Imagine my surprise when having won a hard-fought election to succeed John Prescott as deputy leader of the Labour Party, I discovered that I was not to succeed him as deputy prime minister. If one of the men had won the deputy leadership would that have happened? Would they have put up with it? I doubt it," she will say.
Harman is also reported to relay an anecdote about the 2009 G20 summit convened in London by Brown to tackle the economic crisis. "Imagine the consternation in my office when we discovered that my involvement in the London G20 summit was inclusion at the No.10 dinner for the G20 leader's wives," she will say.
And she will repeat the warning that female politicians should not be used as "window dressing" by male prime minister's. In 2009 Europe minister Caroline Flint quit Brown's government and accused him of using her as "little more than female window dressing". At the time Harman said it was untrue that Brown "doesn't take women in politics seriously".
However her accusation was dismissed by Brown's former spin doctor, Damian McBride, who described it on Twitter as "utter bilge". McBride said Harman's attack was particularly inaccurate given the work Brown is currently doing in Nigeria to secure the release of kidnapped school girls.
McBride added: "As every man and woman who ever worked for him could attest, Gordon judged people on only one thing: were they useless or not."
Writing on his blog he added: "To call that man a sexist is not only wrong but shameful, and to do so as mere collateral in the search for some narrow partisan gain next Monday is frankly beneath the office of Labour's deputy leader."
Cameron is expected to carry out a major reshuffle of his cabinet in the coming weeks, with several women believed to be in line for promotion. The prime minister has suffered repeated attacks that he does not have enough female MPs in his cabinet.
Gordon Brown:Schools Should Be Safe Havens and Places of Learning Not Theaters of War