Detectives investigating the killing of a British engineer and his family in the Alps have revealed his wife was previously married to a man who died the same day as the shootings.
Saad al-Hilli, 50, his wife, Ikbal, 47, and her mother were shot dead along with a French cyclist on a forest road near Annecy in eastern France almost two years ago.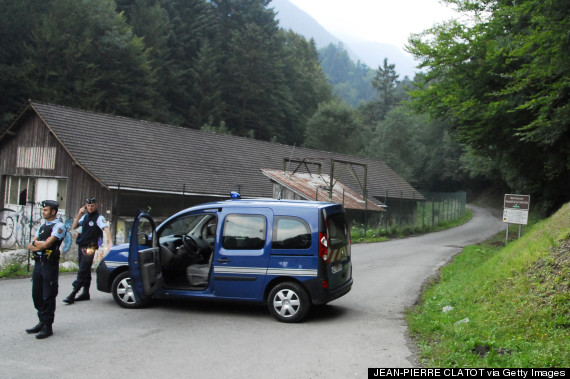 Police stand guard at the scene of the killings
The Surrey couple's two young daughters survived the attack which has so far gone unsolved.
As police continue to search for a motive, it emerged that Ikbal al-Hilli was briefly married to an American dentist in 1999 without the knowledge of her family.
Prosecutors confirmed reports that the man, identified only as James T, died of a heart attack in Natchez, Mississippi, on September 5 2012 - the day of the killings.
They are not connecting the deaths.
SEE ALSO:
Annecy prosecutor Eric Maillaud said: "He died from a heart attack on September 5 2012. This was confirmed by an American doctor. No link is being made with the Chevaline killings."
It also emerged that police questioned a 35-year-old Iraqi man last month following a tip-off from a former jail mate.
The man, Mr S, was traced following claims he once told a fellow prisoner he had been offered "a large sum of money" to kill Iraqis living in the UK.
He was released without charge after it was established he was not in France on the day of the killings and there was no evidence linking him to the al-Hilli family.
Mr Maillaud said: "Investigators were not able to establish that the offer was made and there was nothing to confirm that the Iraqis living in the UK were the al-Hillis. Furthermore, he was not in France on September 5 2012."
The bodies of Iraqi-born Mr al-Hilli and dentist wife, who lived in Claygate, were discovered along with that of Mrs al-Hilli's mother in their BMW on a remote forest route by cyclist Brett Martin.
Cyclist Sylvain Mollier, 45, was also found shot dead.
Mr al-Hilli's brother, Zaid, was arrested on suspicion of murder in June last year but was told in January that he would face no further action after police found there was insufficient evidence to charge him with a crime.
A 48-year-old man was arrested in February but was released from custody after investigators found no direct link between him and the killings.