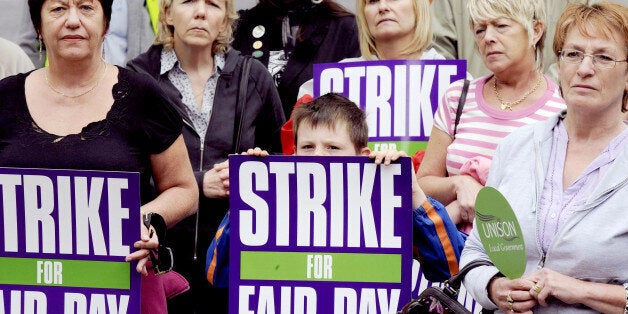 The Government will today be hit by the biggest strike over pay since it came to power when over a million public sector workers will walk out in bitter disputes over pay, pensions, jobs and spending cuts. Home helps, lollipop men and women, refuse collectors, librarians, dinner ladies, parks attendants, council road safety officers, caretakers and cleaners will be joined by teachers, firefighters, civil servants and transport workers.
Picket lines will be mounted outside courts, council offices, Jobcentres, fire stations and Parliament in outpourings of anger over the coalition's public sector policies. The TUC said public sector workers are on average more than £2,000 worse off under the Government, while half a million council employees earn less than the living wage.
Unison said ending the cap on public sector pay would create thousands of jobs and pump millions of pounds into the economy. Every 1% increase in public sector pay would generate between £710 million and £820 million for the Government in increased income tax and National Insurance contributions as well as reduced spending on benefits and welfare, said the union.
Unison will stage an early morning demonstration outside Parliament, one of hundreds of events across the country to mark the 24-hour walkout. The strike has sparked another pledge by the Prime Minister to change employment laws so that a certain number of people have to take part in a ballot otherwise industrial action would be illegal.
Business leaders and leading Conservatives have been pressing for a new law, setting out a 50% threshold in ballots. David Cameron insisted in the Commons that the "time had come" to legislate for setting thresholds and pledged to include this in the Conservative manifesto ahead of next year's general election.
During his weekly questions in the Commons, he said: "I don't think these strikes are right... I think people should turn up for work. I think the time has come for looking at setting thresholds in strike ballots... The (NUT) strike ballot took place in 2012, based on a 27% turnout.
"How can it possibly be right for our children's education to be disrupted by trade unions acting in that way? It is time to legislate and it will be in the Conservative manifesto." Unions will complain of "double standards", arguing that no MPs would have been elected if similar restrictions were placed in general elections.
Christine Blower, general secretary of the National Union of Teachers, said: "This is a valid and lawful ballot and complies with the current legislative framework. The NUT ballot was for discontinuous action which does not provide for an end date to action. The action would end when the disputes are resolved.
"The reason why this dispute is so long running is due to the absolute failure of this Government to engage in any meaningful discussions on the main issues of our dispute. Teachers deeply regret having to take strike action. We are aware that this causes problems and disruption for parents and carers. However, despite months in talks with Government officials, the real issues of our dispute over pay, pensions and conditions of service have not been addressed."
Asked whether the Government would encourage employers to be flexible with parents whose children are off school because of the strike, David Cameron's official spokesman said: "It is for individual employers and their employees to consider what arrangements may be most appropriate for them."
The spokesman declined to discuss whether Mr Cameron's own children were being affected by the teachers' strike. TUC general secretary Frances O'Grady, who will join picket lines in London, said: "Across the public sector workers are on strike today to say enough is enough. Year after year pay has failed to keep up with the cost of living. Public sector workers are on average more than £2,000 worse off under this Government.
"Nearly half a million local government workers earn less than the living wage. But even as the economy starts to grow, ministers have told them that the pay cap will last until at least 2018. This is why today's strikers deserve public support. They are saying that ordinary workers should not be locked out of the recovery, and that we should all get a fair share as the economy grows again."
Unison general secretary Dave Prentis said: "The Government should look hard at the economic benefits of lifting the pay cap and ending the misery of low pay for public service workers and their families. The continuing pay freeze is damaging staff morale and service quality across the public sector, and today our members in local government and schools are saying enough is enough. By starving local councils of the finance they need to deliver vital public services and pay staff a fair wage, the Government is missing an opportunity to not only inject money into the economy but to create much needed full-time jobs."
Fire chiefs urged people to take extra care because of today's walkout by members of the Fire Brigades Union in Wales and England between 10am and 7pm - the 15th round of industrial action in a long-running row over pensions and retirement age. Hundreds of administrative workers at Transport for London will also be on strike in a row over pay and pensions.
A Cabinet Office spokesperson said: "In past years, unions made inflated claims about how many they thought would participate in strike action. They were shown to be wrong. We have rigorous contingency plans in place but we expect the majority of hard-working public servants to turn up for work across the country."
A Labour party spokesman said: "No-one wants to see a strike, not least because of the impact on children and parents. Instead of ramping up the rhetoric the Government should get round the table, because both sides have a responsibility to stop it happening."