The United States has said it is prepared to broker a ceasefire between Israel and Hamas militants in the Gaza Strip, President Barack Obama told Israel's Prime Minister Benyamin Netanyahu in a phone call.
Thursday saw a dramatic escalation in air strikes on the beleagured territory. Palestinians reported at least 16 people were killed in strikes on two homes – occupied by the same family. It was reported that a beach restaurant in the south of the Strip was hit on Wednesday evening, where locals were watching the World Cup match, the Guardian reported.
Netanyahu has thus far ruled out any talk of an end to hostilities, saying it was "not even on the agenda" in a speech to the Israeli Knesset just hours earlier. "While the campaign has gone as planned further stages yet await us," he said, calling it a "tough, complex and complicated campaign."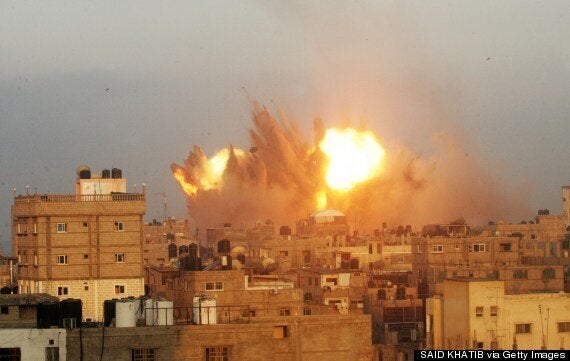 A ball of fire is seen following an early morning Israeli air strike on Rafah in the southern of Gaza strip
Last night Obama "reiterated the United States' strong condemnation of continuing rocket fire into Israel by Hamas and other terrorist organizations in Gaza and reaffirmed Israel's right to defend itself against these attacks," the White House said in a statement.
But the president expressed concern "about the risk of further escalation and emphasized the need for all sides to do everything they can to protect the lives of civilians and restore calm."
"I would remind you who is at fault here, and that is Hamas," State Department spokeswoman Jen Psaki told reporters on Thursday, saying the militant group were "indiscriminately" firing rockets at southern Israel, directed at civilian targets.
Asked whether the US backed a potential Israeli ground invasion of Gaza, Psaki replied that it was "no one's preference."
The death toll is now believed to be around 90 in the Gaza Strip, with no one killed or injured in rocket attacks on Israel.
Israeli military spokesman Lt Col Peter Lerner said on Thursday that Israel had struck more than 320 Hamas targets over Wednesday night and into Thursday morning, and had mobilised 20,000 reservists for a ground operation. But such an invasion may not come about, he added, saying the IDF was focused on an air campaign.
Later on Wednesday, Palestinian President Mahmoud Abbas said: "I have been in contact with the regional and international parties in the last few days, particularly Hamas leaders in Gaza, and everyone I've talked to expressed his willingness to restore the truce and stop the escalation," adding that the Israeli actions against Gaza was "orchestrated and brutal aggression".