Thatcher is accused of a "cover up" by a separate senior source with links to Scotland Yard, who spoke to the Sunday People. He described how a senior minister was accused of sexually molesting young boys at the home of his constituency agent in 1982.The minister was allegedly summoned to Downing Street for a meeting with Thatcher, Home Secretary Willie Whitelaw, a senior ­policeman and an MI5 officer and told to watch his behaviour. He was not disciplined or sacked.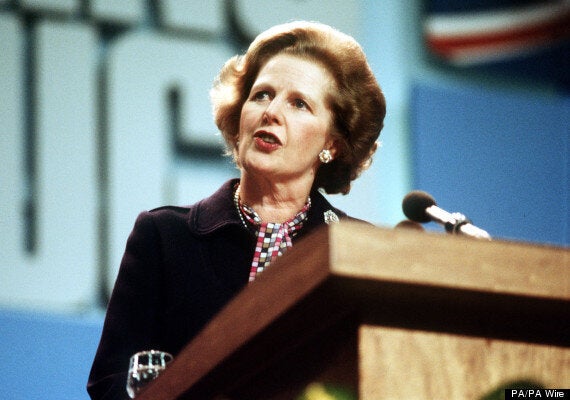 Margaret Thatcher is said to have told one of her senior ministers to 'clean up his act'
But the minister apparently did not heed Thatcher's warning, and the source claimed was caught by police soliciting young boys at the toilets at Victoria station four years later, it has been claimed. Officers are said to have warned the minister about his "behaviour" but again took no further action.
The Sunday People source claims he was told about the alleged "cover-up" by Alec Marnoch, Operations Commander for Scotland Yard in Westminster and the West End, who died in 1999. The source also said that Marnoch hinted to him that the same politician had been caught hanging around the "chicken rack', a set of railings near Piccadilly tube station which was a hotspot for picking up boys for sex in the 1980s.
Tory activist Gilberthorpe told the Sunday Mirror that Thatcher was well-informed about the allegations. "I made it very clear to Mrs Thatcher most trusted ministers had been at these parties with boys who were between 15 and 16. I also told her of the amount of illegal drugs like cocaine that were consumed."
He added that he had given her the name of several MPs including one still sitting today. Gilberthorpe says he received no response from No10 – but was instead summoned to a meeting with William Hague, who had replaced ex-Home Secretary Leon Brittan as MP for Richmond in North Yorkshire. Hague, Gilberthorpe said, "hardly said anything" but a senior civil servant at the meeting said it was "libelous" to make such accusations without evidence.
The new allegations come as the Home Office has again been forced to defend the appointment of Baroness Butler-Sloss to run the inquiry into allegations of an establishment cover-up of child abuse amid claims she refused to go public about a bishop implicated in a scandal.
Lady Butler-Sloss told a victim of alleged abuse she did not want to include the allegations in a review of how the Church of England dealt with two paedophile priests because she "cared about the Church" and "the press would love a bishop", according to The Times.
The peer made the remarks in a meeting with Phil Johnson, who was abused by priests when he was a choirboy, during a private meeting in the House of Lords in 2011, the newspaper said.
It puts fresh pressure on the former High Court judge, who has faced calls to step down after reports that her brother Sir Michael Havers tried to prevent ex-MP Geoffrey Dickens airing claims about a diplomat in Parliament in the 1980s.
In a statement, Lady Butler-Sloss insisted that she has "never" put the reputation of an institution ahead of justice for victims.
She said: "Throughout many years of public service I have always striven to be fair and compassionate, mindful of the very real suffering of those who have been victims of crime or other injustice. I have never put the reputation of any institution, including the Church of England above the pursuit of justice for victims.
"That is why I am honoured to be leading this inquiry into whether public bodies and other non-state institutions have done enough to protect children from sexual abuse. I am assembling an independent panel of experts so that we can begin this important work as soon as possible."
The Home Office again insisted it stands by the crossbench peer's appointment "unreservedly".
A spokesman said: "Baroness Butler-Sloss has had a long and distinguished career at the highest levels of this country's legal system.
"Her work leading the Cleveland child abuse inquiry and as president of the High Court's Family Division make her the perfect person to lead this important piece of work.
"As the permanent secretary (Mark Sedwill) told the Home Affairs Select Committee this week, the integrity of Baroness Butler-Sloss is beyond reproach and we stand by her appointment unreservedly."
David Tombs, former Herefordshire and Worcestershire social services head, said he warned senior civil servants in the Department of Health in the 1990s about the threat of child sex abuse by people in power but was ignored.
He told BBC Radio 4's Today programme: "I was told that I was probably wasting my time, that there were - and the words used were along these lines - too many of them over there.
"Now, I was talking about paedophilia, I was in the Department of Health and the 'over there' to me indicated - although the words weren't used - was in Parliament or was in government and Whitehall."
But Tim Yeo, the minister responsible for social services at the time, dismissed the suggestions.
He told Today: "I think it's incredible, the idea that any remotely credible evidence had been shown to a civil servant at the Department of Health would have been ignored and received the comment that it apparently was.
"There was no culture of child sex abuse that I was aware of either in Whitehall or in Parliament," he added. "The whole thing is extraordinary."
A spokesman for the Metropolitan Police said: "We will fully co-operate with the panel chaired by Baroness Butler-Sloss and provide detail of relevant information.
"While these and live police investigations are ongoing it would be inappropriate to comment further."