The BBC triumphed over ITV in the battle for World Cup Final viewers, with almost 10 million more viewers tuning in watch the Beeb's coverage of the Germany's match against Argentina, according to Barb figures.
While the game itself was a closely-fought contest, decided by Mario Gotze's extra-time goal, the BBC were the clear winners when it came to the ratings war.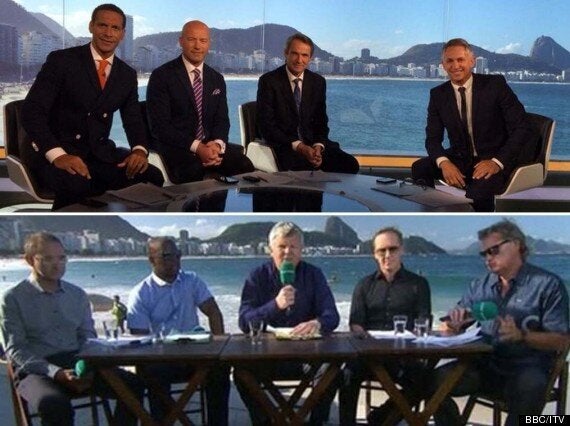 The BBC and ITV presenting teams
According to figures from Barb, the BBC's coverage of the Brazil 2014 Final drew in an average of 12.09 million viewers, while ITV netted just 2.86 million.
The BBC's team of suited and booted pundits was led by Gary Lineker, who was joined in the studio by Rio Ferdinand, Alan Shearer and Alan Hansen, who was making his last appearance as a TV football pundit.
Meanwhile on ITV, Adrian Chiles, Martin O'Neill, Ian Wright , Glenn Hoddle and Lee Dixon were in their usual spots on the decking, sporting sunnies and attempting to look calm and collected in the blazing heat.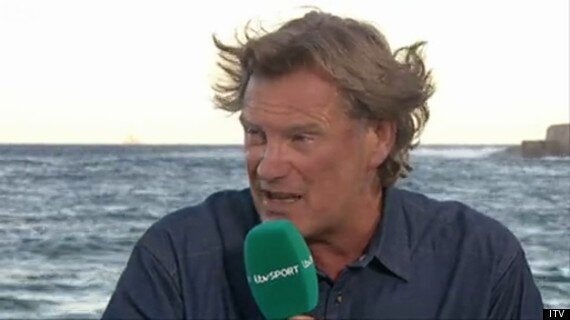 Gone with the wind: ITV's Glenn Hoddle battles the breeze
ITV are traditionally beaten by the BBC in the World Cup ratings war and in 2010, which was Adrian Chiles' first year as their lead presenter, just 3.3 million tuned into ITV's coverage, while 15.1 million watched Spain's 1-0 win over Holland on the BBC.
In 2006, ITV also lost out, managing to pull in just 3.5 million viewers to the BBC's 17.9 million.
Naturally, many viewers took to Twitter to discuss the viewing options, and Adrian Chiles' presenting skills came under fire once again.
ITV's decision to place their studio on Ipanema Beach was also called into question, as Chiles and his team struggled to hear each other over the sounds of the waves crashing on the shore.
The game was Alan Hansen's final appearance as a 'Match Of The Day' pundit and the presenter took the chance to explain his decision to retire.
"I've been in football for 41 years and I'm going out right at the top, just as I did at Liverpool," he said. "I have worked for a great organisation with wonderful people on the most fantastic programme."
Ahead of the game, it was estimated that over 1 billion people worldwide would tune in to watch the match, which dominated social media on Sunday night.
Official figures from Twitter show that over 32.1 million tweets were sent about the final.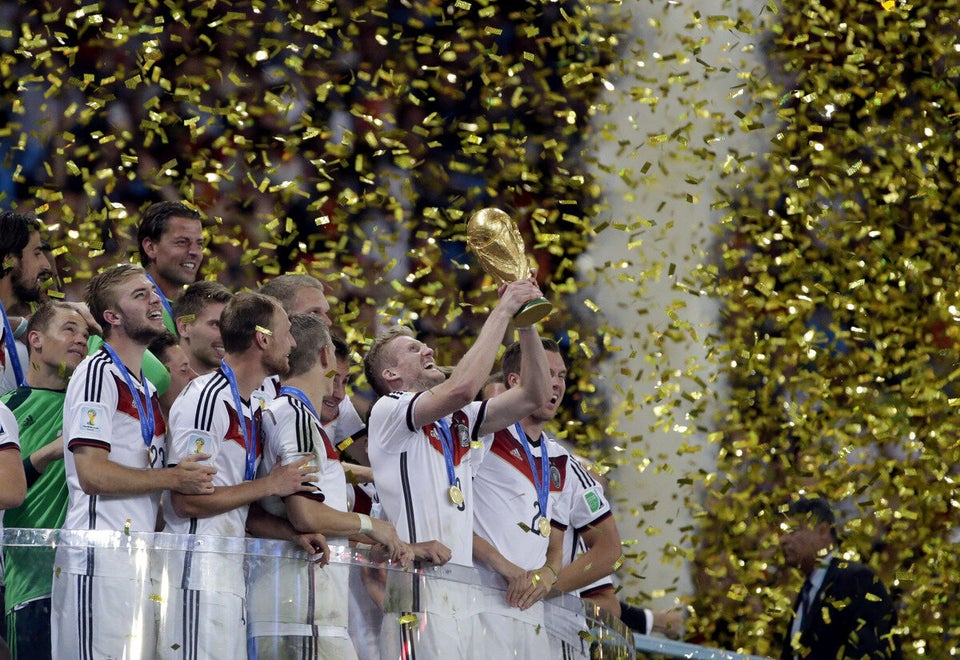 PHOTOS: 2014 World Cup Final