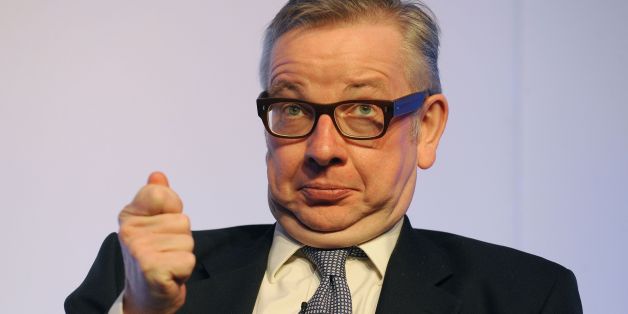 Joe Giddens/PA Wire
Teachers and parents, rejoice - Michael Gove has been removed as education secretary by David Cameron.
In a dramatic cabinet reshuffle that also saw William Hague quit as foreign secretary, Gove has become "minister for TV" with a brief to promote the Government's message in broadcast interviews.
Gove's move to Chief Whip will be seen in Westminster as a demotion from a job in which he has shown a personal, and much derided, passion for free schools and stringent academic standards that has been met with fierce opposition from teaching unions.
Michael Gove is Commons Chief Whip. He'll have an enhanced role in campaigning and doing broadcast media interviews. #Reshuffle.

— David Cameron (@David_Cameron) July 15, 2014
As the news broke of the former education minister's departure, many took to Twitter to voice their enthusiasm for the role change.
Unconfirmed reports of teachers dancing in school corridors as Gove ousted from Education! #reshuffle

— jimrobbins (@jimrobbins) July 15, 2014
NO MORE GOVE IN EDUCATION!!! Teachers, pop open the champagne: it doesn't MATTER that it's a school day!

— Hannah Beckerman (@hannahbeckerman) July 15, 2014
@David_Cameron Good job to get Gove away from teachers before they all leave.

— Elliott (@punchesinbunche) July 15, 2014
If you've got kids I wouldn't send 'em to school tomorrow... all the teachers will be hungover... #Gove #reshuffle

— Will Hoyles (@WillHoyles) July 15, 2014
@chmeredith @HuffPostUK at last, but the damage he has done will be take a lot to repair. Doubt if his successor will be any better.

— Richj61 (@richj61) July 15, 2014
Michael Gove has been sacked as Education Minister. Fair to say he looks shocked: pic.twitter.com/8Z7jc3dHL1

— Larry the Cat (@Number10cat) July 15, 2014
People of the UK, feel free to bred again, #Gove will not be involved in the education of your children!!

— Dan (@StarWarsDadUK) July 15, 2014
I feel a little better about my kids' future education – there are still things to undo, but Gove not being in charge makes it instabetter.

— Anthony Williams (@abitgone) July 15, 2014
@chmeredith Hurray! Now we just have to get rid of this terrible Government and its damaging educational policies.

— Malcolm Fincken (@MalcolmFincken) July 15, 2014
Michael Gove tries to sneak quietly out the back door of Downing Street https://t.co/cPbFm5Kxnd

— Elliot Wagland (@elliotwagland) July 15, 2014
@chmeredith @HuffPostUK - I live in Scotland and (as a teacher and a parent) am still DELIGHTED!

— Katherine R. (@ms_katherine_r) July 15, 2014
Gove fired as education secretary. Becomes chief whip. Seen as clear demotion. Nicky Morgan new education secretary.

— Andrew Neil (@afneil) July 15, 2014
@chmeredith Champagne corks are popping!

— Lindsay Merrony (@LindsayMerrony) July 15, 2014
@chmeredith THANK GOD!!! Only hope the damage he's inflicted can be repaired. He's made teaching a misery. #gove #reshuffle

— Fiona (@FKDoyle) July 15, 2014
"As if millions of voices suddenly cried out in terror and were suddenly silenced." - it's over teachers, Gove has gone.

— Darryl (@createsamazing) July 15, 2014
I'm sure that teachers everywhere just shared a sudden spontaneous orgasm...

"@Number10gov: Michael Gove is Commons Chief Whip #reshuffle"

— Alex Parker (@AlexanderParker) July 15, 2014
That hissing sound you can hear is millions of teachers and parents breathing sigh of relief. #Gove

— The Dulwich Raider (@DulwichRaider) July 15, 2014
@chmeredith bloody marvellous

— Martin O'Hanlon (@martinohanlon) July 15, 2014
@chmeredith @huffpostuk Already totally wrecked the education system, rewarded with being Camerons chief snide. Disgusting 'man'.

— 1⃣9⃣0⃣5⃣ (@DannyVandal) July 15, 2014
@chmeredith @HuffPostUK I am a happy parent, bridges might be built. Demotivated teachers benefit no one. His vision, his schooling history!

— Dackombe99 (@bonesofyou) July 15, 2014
Better day for education?! I don't think many teachers will shed a tear to see michael gove move on! #school #reshuffle

— rc (@daddyrog) July 15, 2014
Gove not forgiven for row with Theresa May then? Chief Whip without a lot of parly biz to manage over coming months is a real blow.

— Joey Jones (@joeyjonessky) July 15, 2014
As the Prime Minister shapes up to fight for a Conservative majority in next year's general election, treasury minister Nicky Morgan, 41, is set to replace Gove as one of a number of women and younger MPs being promoted by Cameron in a bid to counter perceptions that his Cabinet is too "male, pale and stale".
But many have already criticised the move:
Gove out? Teachers will be pleased! Though Nicky Morgan's voting record on education is hardly stellar pic.twitter.com/880DRScfjP

— Rosie Claverton (@rosieclaverton) July 15, 2014
Nicky Morgan voted against same sex marriage - new Sec of State for Education

— Michael Rosen (@MichaelRosenYes) July 15, 2014
Nicky Morgan. The new Estelle Morris. Gove should have stayed there till 2020 and finished the job properly. Now the system will blob back.

— Philip Collins (@PCollinsTimes) July 15, 2014
A very bad move to change Education Secretary. Victory for the Blob, defeat for standards.

— John McTernan (@johnmcternan) July 15, 2014
WHO'S IN AND WHO'S OUT: THE FULL LIST